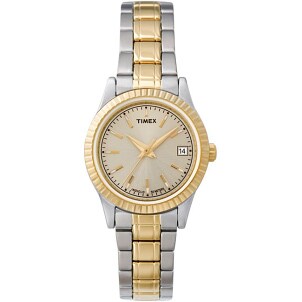 If you're on the hunt for a new watch, take a look at what Timex watches have to offer. From sport watches to dress watches, Timex has it all. With so many options, finding the right Timex watch for your lifestyle can be overwhelming. To make shopping easier, here are some helpful hints to consider when choosing a Timex watch.
Choosing a Timex Watch:

Think about who the watch is for. Choosing whether you want a men's, women's or children's Timex watch may seem simple, but there are a few things to keep in mind. For women who prefer chunkier watches, picking up a classic men's Timex watch will give you the menswear-inspired look you're going for. If you're purchasing a Timex watch for a child, consider whether you want a whimsical watch for small wrists or something that will accompany them into adulthood. Often, watch links can be removed and leather bands can be resized to fit them now and grow with them into their adult years. Deciding which category you want to shop from will make your search easier.

Choose between digital and analog. Deciding if you want a digital or analog watch depends mainly on preference. Typically, analog watches offer a more classic style, and digital watches evoke a casual feel. Consider where you will be wearing your Timex watch and what kind of style statement you want to make when choosing digital or analog. Some people find that telling time to the precise second is easier on a digital watch. If you plan on using your watch as a timer, digital is your best choice.

Look at different watch band styles. Different types of straps will give you the flexibility to choose which Timex watch suits you best. Watch straps made of woven material, rubber or resin are typically found on sport watches and are extremely durable. Stainless steel and leather straps dress up any look with sleek styling and the look of a luxury watch. You may even want to think about purchasing two Timex watches -- one for play and one for dressier events.

Consider functional extras. Each Timex is unique, so you may want to look at extra features when making your final decision about which Timex watch to buy. With everything from compasses to Indiglo nightlights, you can pick the watch that perfectly suits your individual needs right down to the last detail.

Buy Timex Watches
Back to Guides Directory