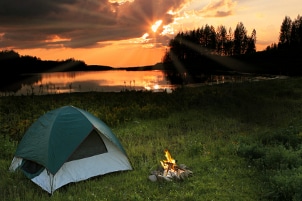 It can be so great to be out in nature camping, roasting marshmallows and gazing up at the stars. But after a day full of the outdoors, it's time to retire to your home away from home, your tent. It won't give you all the conveniences of home, but a tent should keep you dry and protected from critters while you sleep. It should also hold most of your camping gear and give you a place to go if the weather isn't cooperating. So buy a tent hoping you will only sleep in it, but also buy a tent that will be comfortable to be awake in as well.
Instructions:

Determine a usage. Will you be car camping or backcountry camping? A tent used for car camping will be larger than a backpacking tent, but you won't need to be very concerned with weight and packed size, as you only have to carry it a few feet from your car to your campsite. A backpacking tent will feature low-weight construction as you will have to carry it many miles to get to your backcountry campsite.

Determine how many people will sleep in it. Will it just be you sleeping in the tent or will there be several people using the tent? Most tent manufacturers will tell you how many people should be able to sleep in the tent.

Determine a size. Just because a tent will sleep four people doesn't mean it is ideal for a camping trip with four people, because you will want room for your camping gear. There are other things to consider as well. If the weather is unpredictable where you like to camp, you may want to consider a larger tent to hold extra clothes or lay out wet clothes to dry. In rainy or windy conditions, you might spend more time inside your tent playing games. If this is the case, you will probably want a tent that is a little bigger and has a higher ceiling. If you are not comfortable sleeping very close to the other people in your tent, you might also consider a larger tent.

Choose your features. A way to ventilate your tent can be very important. Some tents will offer panels that can be unzipped, leaving a mesh window. Some tents will be mostly made of a tight mesh and have a rain fly that goes over the tent to protect from rain or offer more privacy. Other features include pockets inside the tent to hold flashlights and other small items. Vestibules provide a place to take off muddy boots or store larger items that don't need to be in the tent. Some larger tents will even offer a divider to create two or more rooms within the tent.

Buy Tents
Back to Guides Directory