How to Choose a Tanning Lotion
by Katie Duzan
Tanning lotions come in many varieties. When shopping for tanning beds and lotions, it is important to be informed in order to choose the products that will be right for you. Tanning lotions are important for use with a tanning bed or other regular tanning routine and have a variety of ingredients, formulations and features. Understanding how the ingredients and types of lotions affect your skin can help you decide which tanning lotion will work for you.
Instructions: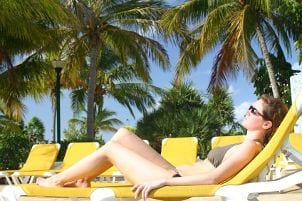 Shop Tanning Beds and Lotions ▸
Look for moisturizers.

Moisture is very important when tanning, especially when using tanning beds. Moist skin tans more easily than dry skin, and it holds the tan longer. Moisturizers can also replenish and protect skin cells. Many tanning bed lotions contain moisturizers such as hemp seed oil, silicon, shea butter and vitamin E.

Use healing aloe.

The aloe vera plant contains a gel that has natural cooling and healing properties. Aloe is especially helpful for treating minor burns, such as sunburns. Tanning lotions that contain aloe can help heal and soothe burned skin. These lotions are especially helpful for first-time tanners or anyone who has not been to the tanning bed in awhile.

Think bronzer.

Tanning lotions with bronzers contain a self-tanner that darkens the skin on top of the suntan. These bronzers allow for a darker tan with the same amount of tanning time. The main ingredients in bronzer lotions are DHA, vitamin A and beta carotene. These ingredients work to enhance and darken the skin's pigmentation.

Consider accelerators and maximizers.

Tanning lotions with accelerators and maximizers help build base tans and increase tanning speed. These lotions contain amino acids such as tyrosine and psoralen and vitamins such as vitamin A to accelerate the body's natural melanin creation. More melanin equals a darker tan. The added moisturizers in accelerators also help the skin to get a good base tan without dryness.

Try the tingle.

Tingling tanning lotions are popular and can create a deep tan and speed up the skin's healing process. Tanning lotions that tingle cause a chemical reaction with the skin that increases blood flow. This blood-flow increase speeds the skin's natural repair progress, resulting in a quicker tan and helping to protect the skin.

Check out the extras.

There are a few additives to indoor tanning lotions that can enhance the tan and also give your skin a healthy tone and glow. Caffeine and other anti-aging ingredients reduce skin wrinkles and enhance skin tightness. A shimmer addition makes the skin glow or sparkle, and scented tanning lotions will heat scent right into your entire body.