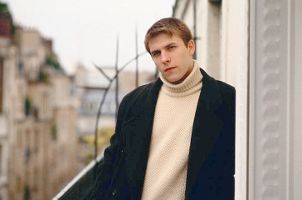 Getting the perfect fit in a sportcoat usually requires a visit to a tailor. But since custom-fitted men's sportcoats are very expensive, especially if you need more than one, the next best thing is to choose the best sportcoat available. Every man has his own style and fit requirements, but this advice can help you find a sportcoat that looks great for every occasion.
Buying Men's Sportcoats:

Test for jacket length by standing up straight. Hang your arms straight down your sides with your hands curled into half-fists. Keep your shoulders and back straight as you would when standing during a conversation. Your particular choice of fit may vary somewhat, but ideally the cuffs of the sport coat should touch your palms. If it comes up short, it will likely feel too tight. If the sleeves slip past your palm, the suit may feel comfortable, but it will look too long.

Buy a suit with pinstripes to give the illusion of height. Pinstripes are an excellent choice in a sport coat for shorter men or any man who wants to look taller. Chalk stripes, which are thicker pinstripes, also add the look of length to men's sportcoats. In addition, the three-button suit is better suited for shorter men, because the extra button provides the illusion of a longer line to the torso.

Stay away from pinstripes and vertical lines if you are very thin. Thinner men need to look for horizontal patterns in the stitching. This doesn't mean explicit horizontal lines but rather a subtle pattern that works subliminally. Another key for thin men is selecting a color that contrasts easily with a tie and shirt. The contrast of dark suit with a brightly colored shirt or tie adds visual girth. Linen sportcoats are also a good option.

Look for darker colors if you are heavy. Black and navy blue are slimming if they fit correctly. Stay away from horizontal lines, no matter how subtly they are woven into the material. Double-breasted sportcoats are good for hiding extra weight while adding a sense of style.

Consider your height when deciding on a sportcoat. Double-breasted sportcoats are good choices for both heavier body types and taller men. Shorter men and those of average height should try single-breasted coats with a center vent in the back, which adds a touch of elegance and can even subtly suggest more height.

Buy Sportcoats
Back to Guides Directory