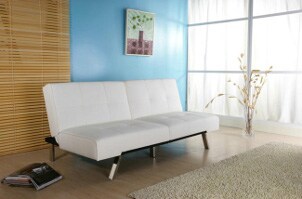 One of the most versatile pieces of living room furniture is the sofa bed. Whether you have house guests or need to conserve space in a dorm room, a sofa bed gives you a place to sit during the day and a bed to sleep in at night. When you're shopping for sofa beds, there are many factors you'll want to take into account. The following tips can help you find a sofa bed to fit your needs and style.
Choosing a Sofa Bed:

Style: There are many styles of sofa bed available, so you'll want to find the one that best meets your needs. Traditional sleeper sofas have a pull-out design where the bed and mattress fold up inside the sofa, beneath the sofa cushions. This type of sleeper couch is typically the most comfortable, but also the most difficult to convert from sofa to bed. Futons and other fold-down sofa beds adjust the back of the sofa to lie horizontally alongside the seat of the sofa, creating a flat bed surface. This type of sofa bed is easy to use and convenient, but it is typically smaller and less comfortable than a pull-out sofa bed.

Priority: When you're shopping for a sofa bed, you'll want to take the primary use into account. Will the sofa be used primarily for sleeping or sitting? If the sofa is your primary bed or if you have house guests often, you'll want to look for a sofa bed with a very comfortable sleeping surface. Look for a couch with a spring mattress to ensure a comfortable night's sleep. If the convertible sofa bed is only going to be used on occasion, you'll want to focus on comfort while sitting on the sofa. Sofa beds with a foam mattress are typically softer for sitting.

Location: Before purchasing a sofa bed, consider the room that you want to place it in. If you are looking for a convertible sofa bed for your living room, you'll want a fancier sofa. You may want to choose a nice leather sleeper sofa or an upholstered sofa bed to match your decor. For a family room or den, a more casual microfiber sofa bed will work.

Space: Keep the amount of space you have in your home in mind when you start looking for a sleeper sofa. If you have limited space, you may want to consider a sleeper loveseat or a futon that won't take up too much room in your home. If space isn't a concern, a larger couch will certainly provide a more comfortable bed and enough room for couples to sleep. A pull-out style sleeper sofa typically takes up more room than a futon, but it is one of the more comfortable styles of sofa bed.

Buy Sofa Beds
Back to Guides Directory