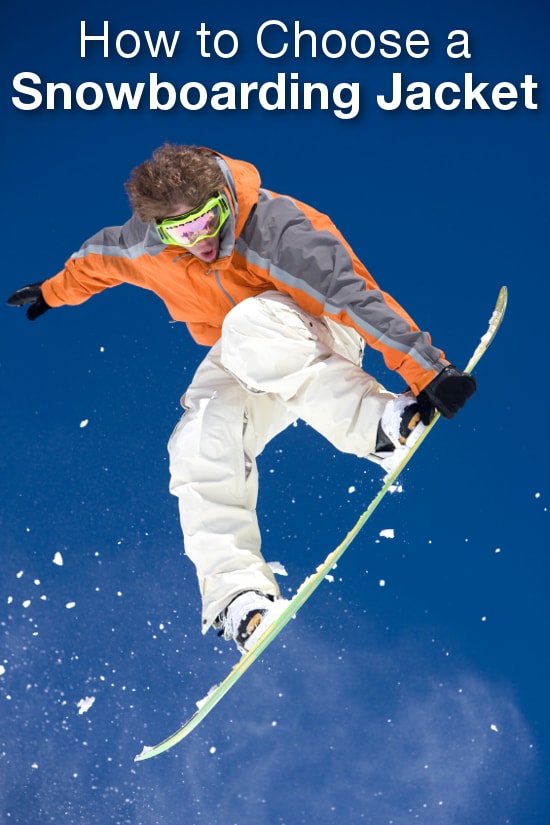 SHOP WINTER SPORTS GEAR NOW >>
As the popularity of snowboarding grows, many sports clothing brands are offering women's snowboarding jackets and men's snowboarding jackets in a wider range of colors, styles, and features. As you choose your snowboarding jacket, keep in mind your snowboarding style, skill level, and mountain requirements.
Choosing a Snowboarding Jacket:

Find the best features. Look for a snowboarding jacket with ports for MP3 players and headphones to keep you company as you head down the mountain, if you prefer to snowboard solo. If you like to carry money, a camera, or small gadgets with you, look for snowboarding jackets with inner pockets that make organization convenient. For snowboarders who want to keep track of the time, a jacket with a clear watch-window at the wrist is helpful.

Buy a jacket that works with your snowboarding pants. If you wear bib-style pants, you can choose a jacket with a loose, open bottom; when you fall, the bib will prevent snow from getting into your clothing. On the other hand, if your snowboarding pants come only to the waist, look for a jacket that has a snow skirt on the inside. A snow skirt is a flap with an elastic drawstring and snaps that closes tightly around your waist to keep out the snow and cold. Women's snowboarding jackets are usually more fitted than men's snowboarding jackets, so keep that in mind as you determine the best fit for you.

Look for a style that fits the type of boarding you do most often. If you will be learning to jump or if you snowboard in terrain parks, look for loose, roomy styles that will move easily as your body twists into position. If you're a backcountry snowboarder, choose a jacket with built-in whistles to alert rescuers in case of an emergency. Look for practical features, such as inner elastic or Velcro on the wrist openings, built-in neck warmers, glove fasteners, and hoods with wind guards.

Consider your skill level. If you are a beginner, look for jackets with more lining; you'll spend much of your time on the ground or moving slowly and will get colder more easily. For snowboarders who tend to get cold easily, consider a jacket that will leave room for layers underneath. Advanced snowboarders often prefer jackets with fewer bells and whistles that allow them to work on their technique without the burden of extra features.

Select your size and style. Snowboarding jackets tend to be made for a roomier fit and have less lining than ski jackets; your regular jacket size should be appropriate. The style of snowboarding clothes tends to be more funky and fashion-forward than ski clothing. Often, snowboarders express their personality through bright colors, bold patterns, and graphic prints. Don't be afraid to buy a jacket that contrasts with your snowboarding pants or a jacket that will stand out on the mountain. When it comes to snowboarding style, anything goes.

Shop Men's Snowboard Jackets
Shop Women's Snowboard Jackets
Shop Winter Sports Gear
See All Guides
Read More Sports & Fitness Guides
Learn More about Winter Sports
Published October 26, 2009
Updated February 3, 2015