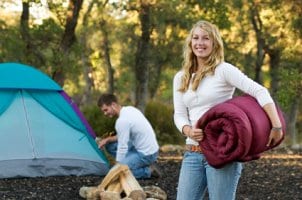 Choosing a sleeping bag is a highly individual process which should be based on several important factors -- including features, style, material and versatility. Before you begin shopping for a sleeping bag, know exactly what you will need it for. Will you be using it for year-round camping and hiking or only camping and outdoor activities in spring or summer? Will you be sleeping in your vehicle, in a tent or under the stars? What types of materials do you prefer?
Once that you have determined the desired traits you would like in a sleeping bag, you can begin shopping in earnest. Here are the steps you'll need to take as you narrow your search.
Choosing a Sleeping Bag:

Make sure that you choose the right temperature rating for your sleeping bag. Since you know which seasons you prefer for camping, you will want to make sure your selection will fit the temperatures. If you will be camping during the cold months, look at sleeping bags with a zero degree rating or lower. If you plan to camp during the summer months only, you should make certain that you avoid the temperature ratings meant for colder times as the sleeping bag will become too hot in moderate weather.

Decide which shape of sleeping bag you like. Do you like to be closely blanketed and very warm while sleeping, or do you prefer to have more room to move? Those who are looking for the ultimate warmth but not much room will like the "mummy" bags. People who are not as concerned with warmth and need to feel more space around them while sleeping will probably prefer the traditional rectangular-shaped sleeping bags. Also, consider if limited space is a factor, as mummy bags take up considerably less space than other bags. This is especially important if you are sleeping in one of the smaller dome tents.

The type of insulation your sleeping bag has is also an important consideration. Down is traditionally the most favored filling and also the warmest. However, the new synthetic insulations have made great strides in recent times and now offer nearly all the advantages of down insulation at a lower cost.

Buy Sleeping Bags
Back to Guides Directory