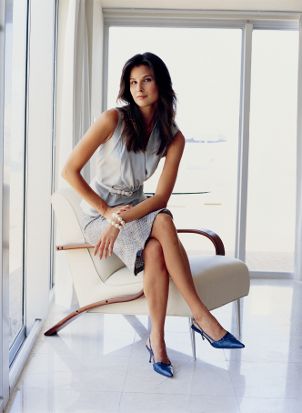 Your business wardrobe can say a lot about you, and when you wear a skirt to the office, you'll want to make sure it's saying all the right things. Whether you're looking for a skirt suit or a simple skirt-and-cardigan women's clothing ensemble, wearing skirts to the office can be both professional and attractive, but the wrong skirt can be just the opposite. Read on for advice about how to choose the best business skirt to wear in the workplace.
Skirts for the Office:

Skirts for the Office: One of the most important aspects of choosing a women's skirt for the office is finding the right length. Miniskirts are too short to wear to work, but a full-length skirt may be too formal and impractical for the office as well. Knee-length skirts are the best for the office, and skirts that fall just below or just above the knee are equally as flattering.

Cut it out: You'll want to find the right cut of business skirt for your body type and look. Pair a bright blouse with a trim pencil skirt or a soft cardigan with an A-line skirt. You can add a bit of texture to your business attire with a classic pleated skirt or a unique tulip skirt; these styles of women's skirts can give a straight figure curves. A high-waist skirt flatters a curvier shape.

In the cloth: Different fabrics create different looks in women's clothing, and you'll want to make sure the fabric of your skirt suits your business wardrobe as well as the workplace. For the fall and winter, wool, tweed and other heavy fabrics are both attractive and warm, and lighter fabrics are ideal for summer skirts. You may want to avoid skirts made of fabrics that wrinkle easily, especially if you spend a lot of time at a desk during your workday.

Solid work: The key to looking your best at the office is to always balance your outfit. A solid black pencil skirt pairs well with a bright solid or patterned top, and a printed skirt can be tamed with a solid sweater set on top. If you do choose to wear patterned and printed skirts, stick to classic patterns, like plaid, pinstripes and soft florals.

Buy Skirts
Back to Guides Directory