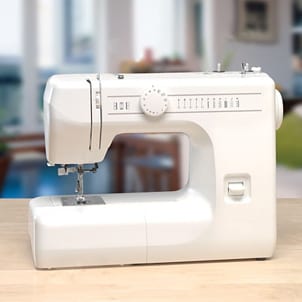 A sewing machine is a sound purchase that will provide you with the means to create a wide variety of useful and beautiful items. Home sewing is a rewarding hobby that saves time and money as well as fostering a sense of deep satisfaction at the end of a project. Sewing machines can also be passed down through generations, so your sewing machine purchase is a wise investment. With a sewing pattern, some basic sewing knowledge, and a few other supplies, you can turn fabric into useful items, crafts and lovely works of art. If you are ready to purchase a sewing machine, let us help you decide which one is going to be best for you.
Choosing a Sewing Machine:

Choosing a sewing machine is a personal process. Only you can truly know what you want and need in a sewing machine, and everyone will require something different. Sewing machines are available in many different sizes and varieties, so a good place to start is establishing a budget. Working within a set financial frame will narrow the field of contenders and keep you from becoming overwhelmed with the process. Sewing machines are available in a wide range of prices, and discount sewing machines will allow you to get what you want for sewing, quilting and needlework while staying within your budget.

Select a sewing machine that will best suit your sewing needs and skill level. You have a wide array of sewing machines to choose from. There are sewing machines available that are very simple and basic. These machines are perfect for beginning sewers and are typically the least expensive as well. Some of these sewing machines are hand-held, so you can work on a versatile set of projects throughout your household. More advanced sewers and crafters, on the other hand, can really make good use of a more sophisticated sewing machine. These sewing machines will have more advanced features such as a variety of stitching styles and programs. Many advanced sewing machines will also have embroidery and quilting functions. These sewing machines are typically more expensive, but can be found at a discount and are also available refurbished.
Sewing Machine Shopping Tips:

While most sewing machines are similar, they will sometimes require different types of sewing notions and other sewing accessories. When choosing a sewing machine, be sure to learn as much as you can about the machine before purchasing to be sure that the supplies it requires are common and easy to use.

When shopping for a sewing machine, you might consider shopping for sergers as well. Sergers are similar to sewing machines, but they create a slightly different style of stitch called an overlock stitch. This stitch is perfect for edging, hemming and seaming and this makes sergers a good option for you if you are looking for a machine that will quickly and easily finish sewing projects.

Buy Sewing Machines
Back to Guides Directory