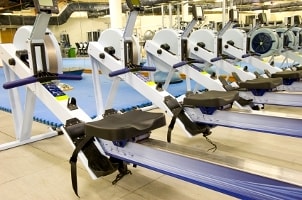 If you're shopping for home fitness equipment, keep in mind that rowing machines provide one of the best in-home full-body workouts. They work your upper body, lower body and abdominal muscles with just one motion, making them a very efficient home gym machine. With regular use, a rowing machine, also called a rower, can provide a number of great health benefits. Rowing machine benefits include increased muscle strength, elongated muscles toning and weight loss. There are different styles of rowers appropriate for different activity levels. When buying a rowing machine, you'll want to consider resistance method, size and price.
Choosing a Rowing Machine:

Resistance: Choose a rowing machine with a resistance method that matches your needs. Resistance affects how the rowing mechanism moves. Hydraulic and magnetic resistance works well for people who want a total body workout but aren't interested in rowing as a sport. Hydraulic machine rowers save space, and magnetic machine rowers make very little noise. Air and water-resistant rowing machines are best for those practicing for rowing competitions, as they give a true-to-life experience. Air resistance provides aggressive exercise, while the water method is most like the true rowing experience. Air and magnetic-resistance rowers usually allow a smoother continuation of movement.

Size: Measure where you want to place your rowing machine. Sizes vary greatly. When looking for rowing machines, check the dimensions to make sure that it can fit in your space. Also consider the weight of the machine, especially if you plan to move it often. Rowers range in weight from 35 pounds to over 100 pounds. Some rowing machines fold up to minimize the space they take up, but you will still need room to perform the exercise. While heavier rower machines often have more features, you can find lightweight rower machines that fold up into small spaces and still provide a great workout.

Price: Choose a rowing machine with the extra features you think you'll use. Most rowers calculate your speed, distance and time. Added features might include a display of the average calories burned during your session, strokes per minute or a built-in heart-rate monitor. Added features usually mean added price, so deciding which features you want in your rower will help you know which sort of price range you're looking at.

Buy Rowing Machines
Back to Guides Directory