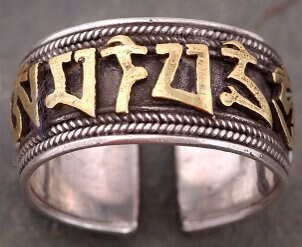 A ring is a very personal gift, and choosing one for a man takes some careful consideration. Men's rings come in simple designs for men who prefer to keep their bling subtle, as well as flashy designs for men who love to accessorize with statement jewelry. Many men limit their jewelry to a wedding band, and others enjoy accessorizing with several rings and matching men's jewelry selections such as necklaces, bracelets and earrings. Plan ahead before you go ring shopping for the man in your life and consider several factors when choosing men's rings and men's wedding bands.
Choosing a Ring for a Man:

Consider the occasion: If you are shopping for wedding bands, it is important to choose a durable ring that will match your husband's wardrobe and tastes. Men's wedding bands are available in many materials, including gold, silver, titanium and stainless steel. If you are shopping for a piece of anniversary men's jewelry, it is important to choose a ring that is symbolic and meaningful. If you have decided to purchase a ring for your husband or boyfriend for his birthday, consider extravagant fashion rings and interesting religious rings and cultural rings.

Shop by personality and occupation: Whenever you are shopping for jewelry gifts, it is important to choose pieces that will reflect the recipient's personal taste. It is also a good idea to purchase a ring based on your man's line of work. If your husband works in a professional setting, for example, he might appreciate a subtle, classy ring that he can wear with business suits. If your boyfriend works in construction, on the other hand, durability and comfort might be at the top of the list. If the man in your life wears a diamonds or owns a lot of gemstone accessories, then he will probably appreciate a ring with some precious stones. If the man you are shopping for likes heavy metal and wears a lot of dark clothing, he might appreciate a titanium ring with skulls or leather embellishments.

Choose the right size: Many men's rings, such as those made from titanium, cannot be resized. Even if you are able to resize the ring you select, you might have to pay an extra fee and go out of your way. Choosing the right size the first time is the best way to avoid hassle. The best way to determine someone's ring size is to refer to a ring he already owns. You can take an existing ring into a jeweler to determine its size or trace the ring on a piece of paper for the jeweler. Ring sizing print-outs are also available online.

Buy Men's Rings
Back to Guides Directory