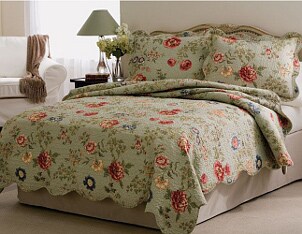 When temperatures drop and snow starts falling, nothing is more satisfying that reaching for a cozy quilt to wrap up in. With so many options available, choosing a quilt that will last not only through winter months, but year-round as well can be a daunting task. Keep reading to learn how to choose a quilt that fits every occasion.
Choosing a Quilt:

Decide on a warmth factor. Just because it's hot outside doesn't mean quilts need to be shoved in the closet or stored under a bed. Lightweight quilts provide an airy layer for nights when you want something more than a sheet, but don't need something that will weigh you down. Of course, quilts have the ability to keep you warm even when temperatures reach near-freezing levels. For added insulation, look for a quilt with a heavier fill that will make cozying up in bed your new favorite hobby.

Determine which style you're looking for. While the word "quilt" may evoke thoughts of patchwork and patterns, quilts have outstanding versatility in the home. It's up to you to choose which style suits your personal home decor.

Quilt Styles

Look for different fabrics to breathe new life into your bedding. Whether you want a colorful, traditional heirloom quilt or an understated, solid-colored embroidered quilt, you'll be able to find something that fits easily into your design aesthetic.

Pick a color scheme to make finding the perfect quilt easier. Once you've narrowed down the color options, you can quickly browse for your dream quilt. You may not want to be too rigid though, the ideal quilt could be totally different from what you had in mind.

Measure your bed to determine the look of your quilt. Quilts come in all standard sizes, but you can still determine how you want your quilt to look on the bed. For a dramatic ground-sweeping effect, you may want to order a size up. If you plan on using a quilt solely as a throw, you may want to look at smaller sizes so it can be easily put away and accessed when you want it. By comparing measurements of your bed with the products online, you can make sure to get the look you were going for.

Choose accessories that highlight your new quilt. From shams to throw pillows, finding the right accent piece will make your quilt stand out even more. Often thought of as works of art, quilts have the ability to make a style statement. You can use your quilt as a canvas and keep the accessories understated or pile on the patchwork to make a visual impact.

Stock up on quilts to give as gifts. Kids' quilts and baby quilts make great gifts that never go out of style. If you're looking for a functional present for someone special, check out children's quilts. With a variety of motifs, quilts can be the right personalized gift for sports lovers and doll enthusiasts alike.

Buy Quilts
Back to Guides Directory