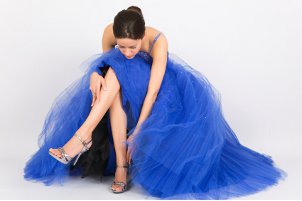 Prom night is one of the most anticipated and most often remembered nights of a teen's life. If you're a teenage girl looking forward to prom or the parent of one, you know that picking the right prom dress is important. You want to feel pretty and confident on prom night, but with the variety of formal dresses available, it can be hard to find the right one for you. Read the following tips to help you find the right prom dress for your big night.
Choosing a Prom Dress:

The right style: When you're shopping for prom dresses, you'll find everything from floor-length ball gowns to figure-fitting miniskirts. Not every prom dress is for every girl. Some girls want to feel like a princess on prom night, and a full ball gown gives a fairytale effect. If you want to feel more modern and young, choose a shorter, lightweight dress or a dress with a bright, bold pattern. Remember to be yourself and choose a dress you like, no matter what everyone else is wearing.

Consider length: Traditionally, formal dresses are floor-length. Long dresses are still a popular style and add a bit of romance to your look. Modern prom dresses, however, come in several lengths. If you have a fun, spunky personality, a tea-length party dress may be a good choice for you, and a knee-length bubble dress is feminine and sweet. Some girls love the look of a mini skirt, but check your school's dance dress code before choosing a shorter length.

Colors and fabric: You'll want to buy a dress in a color you like, but you'll also want to consider the fabric and finish of the dress. Neutrals, like black, white, nude and even silver and gold, look good in just about every fabric, but bright colors are another matter. If you choose a bright color, you may want to choose a fabric with a matte finish to tone down the color. More subtle colors, however, are really brought out by shinier fabrics, like satin.

Made for dancing: If you're planning on doing a lot of dancing at prom, you'll want to make sure your dress can handle it. If your dress is sleeveless, make sure it has wide straps that fit snuggly on your shoulders and won't pull off, and a strapless dress should have a structured bodice that stays in place. Particularly long dresses or dresses with lots of flowy fabric could get caught on your shoes and trip you or be stepped on by others on the dance floor. Make sure your dress doesn't shift around or drag on the floor before you leave for the dance.

Buy Junior's Dresses
Back to Guides Directory