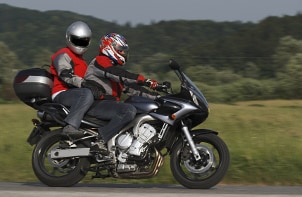 A motorcycle cover is a smart way to keep your motorcycle in good condition. Like any vehicle, a motorcycle is vulnerable to the outside elements. Hail, wind, rain, and snow can all damage a motorcycle's finish and make it look worn beyond its years. Protective motorcycle gear will save you money in the long run, helping keep your bike in showroom condition. A motorcycle cover is a small investment that can help cut down on repairs for your motorcycle. Even motorcycles that are parked in a garage aren't impervious to falling debris or dings from car doors. A motorcycle cover is a must, particularly if your bike sports special extras, such as leather saddlebags or a custom paint job.
Choosing a Motorcycle Cover:

Determine whether you want an indoor or outdoor cover for your ATV or motorcycle. An indoor motorcycle cover is typically lightweight and less expensive than an outdoor cover. Its primary design is to keep dust off of the bike. An outdoor cover is designed to protect motorcycles and ATVs from moisture, minor dents, and scratches. Many outdoor motorcycle covers also have heat-resistant panels so the cover can be placed over hot exhaust pipes. An outdoor cover can be used both indoors and outdoors, but an indoor cover should not be used outdoors.

Measure your motorcycle. You'll need to measure the length, width, and height of your motorcycle in order to have the correct measurements for your new motorcycle gear. Be sure to measure your ATV or motorbike at its widest, longest, and highest points, including attachments, so that your new motorcycle cover will fit well. The motorcycle cover should not extend all the way to the ground. Your motorcycle needs a bit of airflow between its body and the cover, and a few inches of clearance will allow the air to circulate.

Check the sizing. Compare the dimensions of your bike with the dimensions of the cover you're planning to purchase. Purchase the larger size if your motorcycle requires a cover that is between two sizes. Many covers are sized based on the size of the engine; be sure to read the description closely to make sure it's the appropriate size for your bike.

Decide which features matter to you. Each cover will have special features, and these can make one more expensive than another. If it matters to you that a cover is machine washable, that it has elastic or ties, or that it comes with its own storage bag, you'll may have to pay a bit more, but it will be worth it to get what you want the first time, so you won't have to replace the cover soon.

Buy Motorcycle Gear
Back to Guides Directory