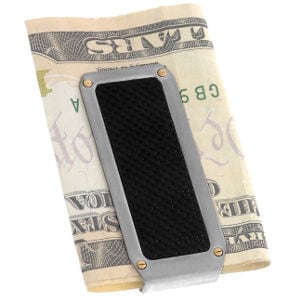 Skip the wallet bulging with cash, credit cards, coupons and gift cards and buy money clips you can fit easily into your back pocket. Perfect for travel, shopping trips or work, money clips allow you to carry the cash you need, along with a credit card or two, in a compact holder that won't take up unnecessary space in your bag or your pocket. Money clip holders are convenient for every occasion. Read on for tips on choosing a money clip that fits your style.
Buying Money Clips:

Buy a personalized clip as a gift. If you're looking for a unique present for a friend or family member, personalized money clips are thoughtful gifts for almost anyone. Buy engraved money clips with your husband or wife's initials, or look for styles you can add a personal nickname to for a funky touch. Personalized money clips are also a great idea for an office gift, especially for a boss or co-worker who has everything. Look for engraved money clips in stainless steel for a gift that will last.

Look for magnetic money clips. To be sure that your cash doesn't slip from its clip, buy magnetic money clips that can hold cards, ID and bills. Leather money clips with magnetic closures are soft and luxurious and offer a look similar to a traditional wallet. Many magnetic money clips also have a hidden slot that holds credit cards and a driver's license. Buy leather money clips as holiday gifts or simply to replace a worn-out wallet or pocketbook. Money clip holders can also hold small pads of paper or business cards for a business professional on the go.

Find silver money clips for gifts. Make buying gifts for the wedding party even easier and purchase silver money clips for the best man, bridesmaids, maid of honor and other participants. Gold money clips also make great gifts, especially if they complement the wedding colors. Tie ribbons or tiny silk flowers around silver money clips to make them more feminine for the bridesmaids or slip birthstone rings over gold money clips to make the gift even more meaningful.

Buy Money Clips
Back to Guides Directory