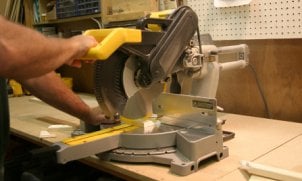 Miter saws, also commonly referred to as "chop saws," are one of the most useful power tools in a carpenter's arsenal. A miter saw performs the same tasks as a traditional hand saw, but it does the job in a fraction of the time and with a cleaner cut. Nearly any woodworker can justify the purchase of a miter saw for the home workshop, but with four different styles of saws available from many manufacturers, you have a lot of choices. Check out the following tips to help you narrow down your decision and find the right miter saw for you.
Choosing a Miter Saw:

Types of miter saws. Knowing the types of cuts you'll be making is your first indication of what style of saw you need:

A standard miter saw is used for making basic, straight cuts. The saw's arm pivots at a single point, and the saw can cut both miters and bevels, depending on how the stock is held.

A compound-miter saw also cuts both miters and bevels, but rather than a single pivot point, this style of saw also tilts at a second axis to make bevel cutting easier.

A sliding compound-miter saw features a rail that allows the saw's blade and motor assembly to slide forward and back, which significantly increases the width of stock you can cut in one pass.

A dual compound-miter saw is a hybrid of a compound-miter saw and a sliding compound-miter saw. This power tool features a second axis for cutting bevels and a sliding rail for working with large pieces of stock.

Blade sizes: Blades are measured by their diameter in inches. The most common sizes are 8-inch, 10-inch and 12-inch blades. The wider the diameter of the blade, the wider you'll be able to cut, so if you're anticipating frequently cutting wide stocks, avoid smaller blades.

Features: Many woodworkers prefer electric brakes on their miter saws, which quickly stop the blades rather than allowing them to lose momentum on their own. Self-retracting blade guards are another popular safety feature. Several manufacturers offer laser guides as a standard feature to help you cut your angles with greater precision.

Replacement parts: Although your new miter saw will likely come with a blade, you'll eventually need to replace it. It's generally easier to find replacement blades for popular brands.

Guarantee quality: Not only is the warranty a statement of the tool's quality, but you'll have access to service and replacement parts if you need them.
Tip:

Consider purchasing a portable stand for your miter saw. Portable miter saw stands are designed specifically for various models of miter saws to provide a stable, safe working environment, and you may be able to purchase the stand with the saw as a package.

Buy Saws
Back to Guides Directory