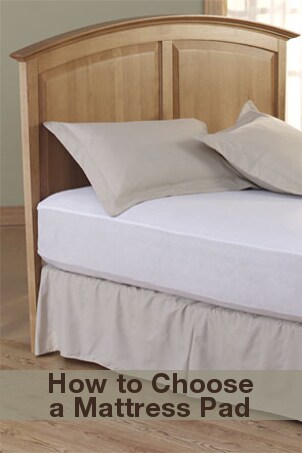 If you're looking to increase the comfort level of your mattress, a mattress pad is a sound investment. Mattress pads provide a variety of benefits, and once you have decided how you want to improve your bed, then choosing one will be simple.
The Mattress Pad for Your Needs:

To protect your mattress: Choose a plain, fitted cotton mattress pad if your express desire is to protect your mattress from light soiling. Cotton mattress pads are lightly filled with polyester fiber that won't shift thanks to the sewn-through stitching. These are often constructed with a stretchy knit skirting that allows them to fit over mattresses of most sizes without difficulty. Some have simple straps for all four corners of the mattress.

To reduce allergens: Select a mattress pad made of anti-microbial materials if you have allergies. These mattress pads typically have tightly woven fabric that acts as a barrier between you, dust mites, and other allergens in your mattress.

To keep your mattress dry: Purchase a waterproof mattress pad if you want to protect your mattress against spills caused by bedtime snacks, bladder control issues, or other accidents. Waterproof mattress pads have polyurethane film backing that repels liquids and makes them easy to clean.

To warm up: Choose a heated mattress pad to warm up your bed during the colder months. A less cumbersome alternative to an electric blanket, heated mattresses have a variety of updated safety features, including controls with multiple settings and automatic shutoff features.

To increase comfort: Change the feel of your bed entirely with a memory foam mattress topper. Memory foam and latex foam mattress pads conform to the body's contours to relieve pressure points. They're the ideal solution for the fitful sleeper. If you have back problems, a memory foam mattress pad is the cheapest way to ensure your muscles will be supported -- allowing you to have a good night's sleep. Consider a plush mattress topper to provide a little more comfort at night. Down mattress toppers, which rest on top of your bed like a large, flat pillow, provide supreme softness.
What Do You Want to Do Next?

Shop Mattress Pads
Shop Heated Mattress Pads
Shop All Mattress Pads & Toppers
See All Guides
Read More Bedding Guides
Learn More about Bedding Accessories