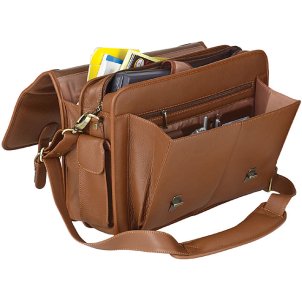 A laptop messenger bag is more than a fashion statement: It protects your investment. For some, this means keeping your computer safe; for others, it means protecting your livelihood. There are hundreds of different laptop cases on the market, so choosing one can be as difficult as choosing your actual laptop. But with a few tips, you'll be able to find your computer's perfect home away from home.
Choosing a Laptop Bag:

Consider the size of your laptop. Smaller computers like 12-inch notebooks will fit easily into most messenger bags, while 17-inch or larger computers may require a bag designed specifically for that size. Know the size of your laptop and make sure the bag you choose can properly accommodate it.

Examine the internal padding mechanisms. These keep your computer safe as your bag moves with you and bumps into things. Look for a laptop bag that will keep your computer relatively still. Also, make sure that the messenger bag is well padded on all sides.

Look for strong bottom support. This will protect your laptop from hard surfaces such as floors as you set your bag down. Laptop bags come with different types of bottom support including foam, rubber, plastic and even metal. Choose the hardest bottom support material your budget will allow.

Size up all the things you want to carry in your bag. You can choose from computer-only messenger bags or bags that do double duty as book bags or briefcases. Make sure you computer accessories fit comfortably without pressing against your computer when the laptop messenger bag is closed.

Pay close attention to the strap. Look for a strap that's strong enough to support the weight of everything you need to carry as well as wide enough to be comfortable.

Decide if you'd like to opt for a waterproof bag. This will protect your computer from sudden rainstorms or accidental morning coffee spills. It also adds durability and prolongs the life of your laptop messenger bag.

Take a look at the warranty offered with the bag. Many companies offer lifetime replacement guarantees for their products. This allows you to buy your laptop bag with confidence and it can save you money when it comes time to replace your bag.

Don't buy too much bag. While your instinct might be to get a bag with all the bells and whistles, you want your bag to remain easily portable. After all, a large, bulky bag may make it difficult for you to navigate your daily routine.

Buy Laptop Cases
Back to Guides Directory