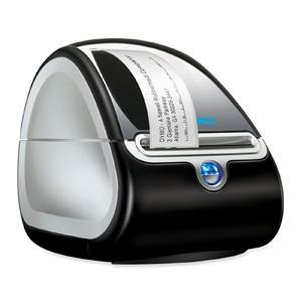 A label maker is an office supply tool used to make custom labels. These labels may be used for files, storage, inventory or any number of other applications. Label printers come in a variety of shapes and sizes and may have features ranging from basic to advanced. When choosing a label maker, compare the features and requirements that will fit your label printing needs.
Choosing a Label Maker:

Determine what kind of features you need. Will you require different types of fonts or text colors? Do you need to be able to bold text, underline text or print text in various sizes? Does the longest number of characters permitted by each label maker meet your average needs? Answering these questions can help you narrow your label maker search.

Consider the display and keyboard size. A label maker displays your text on a small screen as you type. Decide if the screen is big enough and is equipped with enough contrast to allow you to read it easily. Check that the keyboard is large enough for you to type on it without too many mistakes. Ensure that the buttons are large enough and far enough apart to be practical and functional. You might also consider using a label printer that connects to your computer.

Decide if portability is an issue. Smaller label makers may have limited features, but they are also easier to carry. Larger units have more features but may be less portable.

Compare power sources. Many label makers are battery-operated, though some may be more efficient than others. If you plan to use your label maker fairly often, look for units with rechargeable battery packs or optional power cords.

Keep refill cartridges in mind. Each type of label maker may require a different brand of refill cartridge of labels or ink. A thermal label printer won't require printer ink, but you will need thermal paper labels to print with. Also, some printers may only accept a specific label size.

Look for special features. Some label makers can print items like barcodes, symbols or pictures. Units designed for retail use may even use magnetic ink, which allows them to be read by scanners and inventory equipment. Others may have memory for storing frequently printed labels or a label history.

Buy Label Printers
Back to Guides Directory