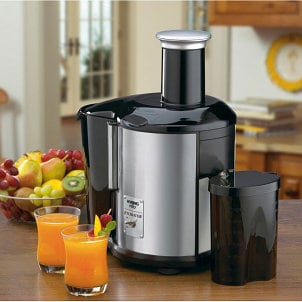 Squeezing your own juice from fresh fruits and vegetables provides numerous health benefits. Home juicers make it easy and delicious to get in all those daily recommended servings of fruits and vegetables. Fresh juice is loaded with vitamins, antioxidants and fiber, which help your body ward off myriad illnesses and disorders. Using a juicer to make your own beverages allows you to select flavor combinations that you and your family will love while controlling what goes into your drink. Check out the following tips for choosing the right juicer for your home.
Choosing a Juicer:

Types of juicers. In order to decide which type of juicer to buy, think about the types of juice you will want to make. If you are looking for a juicer that will allow you to whip up some fresh orange juice for breakfast or some homemade lemonade, choose a citrus juicer. These juice the pulp of citrus fruits while keeping the rind intact. If you want to extract juice from other types of fruits, vegetables and wheat grass, choose a more diverse juicer that can handle both fruit and vegetable juicing.

Power and size. A high-powered motor ensures that you will not have to chop up fruits and vegetables as extensively and that you can make juice more quickly. If you have limited counter or cabinet space in your kitchen, size will be an important factor in deciding which juicer to buy.

Ease of use. If you want to make a quick cup of juice before heading out the door in the morning, choose a simple juicer that is easy to clean. If you don't mind spending a little more time on your juice, you may like a more complex model that offers additional features and precision.

Extra features. Some juicers have impressive features beyond juicing, such as the ability to make homemade nut butters or coconut milk. If you have never desired making these extras at home, you will probably be content with a juicer without these added characteristics.

Budget. Estimate the amount you want to spend. You can find a very basic juicer for around $30, while a top-of-the-line juicer can cost a couple hundred dollars. If you are torn by what you can get within a specific price range, choose a simple model of superior manufacturing over a complex juicer of questionable quality in the same range.

Buy Juicers
Back to Guides Directory