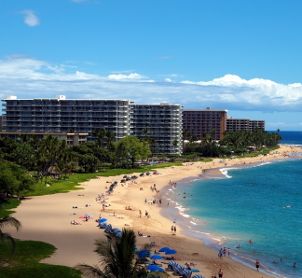 Planning your wedding can be stressful and complicated, but planning the honeymoon doesn't have to be; it should be relaxing and fun. When you're looking for honeymoon hotels, both you and your fiancee will love, a few suggestions can help you book honeymoon suites for an unforgettable time together. Find the luggage and travel accessories you need early and read on for tips on choosing honeymoon hotels.
Finding Honeymoon Lodging:

Decide on a budget. Setting aside a set amount of money for your honeymoon suites will help you narrow down choices for honeymoon destinations. However, do some checking on rates at honeymoon resorts and honeymoon travel before you rule any places out. You can often find honeymoon packages when you book early or during the off-season.

Choose rooms based on amenities. It's your honeymoon; why not splurge a little? Look for honeymoon deals that include couple massages, gourmet meals, personalized spa robes and other fun details. If you're trying to cut costs, look for honeymoon deals that include your must-have features, such as a jetted bathtub and a large, comfortable bed.

Find a great location. To save time and money on honeymoon travel, look for hotels in close proximity to the airport and to attractions you're looking forward to. Honeymoon destinations that are centrally located in an urban area are often convenient, but you can also find honeymoon packages that provide transportation, too, if you want to check out more secluded honeymoon resorts.

Check reviews and ask around. Before you book any hotels or purchase tickets, ask friends and family for honeymoon ideas. They may know the best places to go for romantic honeymoons or tell you about the best restaurants, shops and activities in that area. If you have your heart set on a honeymoon location you don't know much about, read reviews online and see if a virtual tour of the resort or hotel is available.

Pick a comfortable, welcoming place. No matter how far you plan to travel to reach your honeymoon destination, you'll be tired when you arrive. Don't let romantic honeymoons be spoiled by unsympathetic hotel clerks or room mix-ups. Call just before leaving on your honeymoon to make sure that everything is in order and have honeymoon ideas in mind for your arrival, too, for an unforgettable trip.

Buy Luggage
Back to Guides Directory