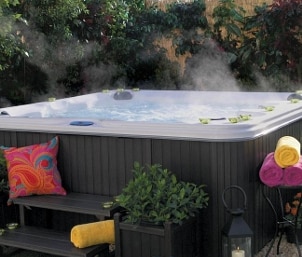 After a long day, nothing takes away your tension like soaking in a hot tub. Hot tubs and spas ease away your physical and mental stress. In addition to the recuperative effects, they are enjoyable to sit and socialize in. When you start shopping for a hot tub, carefully consider the necessary features -- as well as the extras -- to make sure you get one you will enjoy for many years.
Hot Tub Features:

Seating capacity and depth: Most home hot tubs and spas are available with molded seats designed for maximum comfort. Decide how many people you need to accommodate in your hot tub and find one with enough seating. Also, consider the seating design. Decide if you want fully immersed seats or ones that are situated a bit higher out of the water.

Permanence: Today's hot tubs come in a variety of shapes and materials. It can be a permanent addition to your home or one that is easy to pack up and transport. If you may be moving soon and want to take your hot tub with you, look for a portable model. On the other hand, a permanent hot tub can be a selling feature of your home.

Maintenance: Whether you're a first-time hot tub buyer or just wanting to switch styles, make sure you know in advance how to care for it. Read our guide on how to maintain a hot tub for more information, so you'll know what you are getting into ahead of time.

Number and placement of jets: Hot-tub jets provide a deeply relaxing massage for your body by emitting water at high pressure and temperature. Most people look for as many jets as they can find in a hot tub, but remember to consider jet location as well as the total number of jets. Check to make sure that every seat has an ample number of jets. If you have foot pain or circulatory issues in your legs, look for a spa tub that has jets that will hit your feet and legs. If the muscles in your back get tight, then make sure your hot tub features lots of jets in the back of the molded seats.

Extra features: Spending time in a hot tub should be as pleasant as possible, which is why manufacturers offer several options to enhance the experience. Waterfalls, chromatherapy lighting, drink holders, and stereo systems are just some of the extras you can find on home hot tubs. Other special features include hot-tub covers and removable steps. Steps make it easier to get in and out of your spa tub, and hot-tub covers keep your hot tub clean.

Buy Hot Tubs and Spas
Back to Guides Directory