by C.M. Mackenzie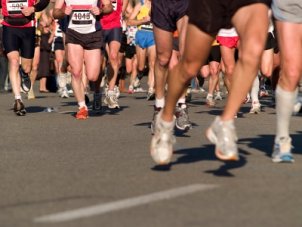 If you're having trouble dropping weight or increasing fitness, heart monitors can aid your personal fitness and health program. These devices allow you to view your heart rate so you can make any necessary adjustments to your workout or lifestyle. Heart monitors, also called heart rate monitors, may be simple devices the size of a wristwatch or a more complex unit with multiple functions. To choose a heart rate monitor, consider your health and fitness goals and decide which heart monitor features yours should have to help you meet your fitness goals.
Choosing a Heart Rate Monitor:

Know how much you are willing to spend on a heart monitor. Prices vary greatly according to brand and available features. Basic heart rate monitors only tell your heartbeat. The best heart monitors (depending on your needs) can store lots of information, tell you how many calories you're burning and have special features that prevent your heart monitor signal from being interfered with by other wireless devices.

Choose a heart monitor with or without a chest strap. Almost every monitor comes with a heart monitor watch, even if the monitor has a chest strap; a strap for detecting your heart rate goes around your chest and sends signals to the band on your wrist. However, if you don't want to wear a chest strap, you can find heart monitor watches without extra sensors.

Review the features available on heart monitors. Some models offer alarms to indicate when you've reached optimal heart rate; others show calories burned during your workout. If you exercise near water, consider a water-resistant heart-rate monitor. If you have trouble reading displays, be sure to get a heart rate monitor watch with a large display. Some heart monitors even provide GPS tracking -- perfect for hikers or cyclists. Other models store heart-rate data so you can download it to your computer.

Compare features with prices. Once you know the features you would prefer in your heart monitor, compare the ones that fall into your preferred price range. This will enable you to choose the best model available at the price you want to pay.

Buy Heart Monitors
Back to Guides Directory