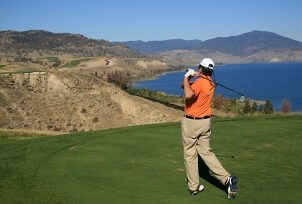 Did You Know:
Australia has an 850 mile golf course
Sano, Japan has a 964 yard hole
Massachusetts has a 695 yard green




Read more golf facts in our golf infographic
Amazing golf courses are all around the world, and many golfers want to travel to a few of them eventually. With a golf travel bag, you can bring your own clubs instead of renting once you reach your destination. You'll want to ask yourself a few questions before you choose the golf bag to take on your next golf vacation.
Choosing Golf Travel Bags:

Are you flying or driving to your destination? When you're traveling by air, you will most likely have to check your golf bag, so a hard-side bags may better protect your golf equipment, clubs and accessories. Soft-side golf bags are more suitable for road trips and travel itineraries where you or someone you know will be handling the bag throughout the journey. Soft-side bags may also be more lightweight, so they may be easier for the golf enthusiast to carry over long distances.

Do the features you find essential fit into your budget? Take a close look at all the other features available. Do you just need a place to put a water bottle, or do you want an insulated beverage compartment? Would you be satisfied with a small rain cover, or do you want an integrated umbrella holder? Remember that you will be on vacation, so those little luxuries can only make the time more enjoyable, but they can also make the cost of the bag a bit higher.

How long is your driver? Your longest club is your driver, and golf travel bags are available in a sizes to fit drivers between 48 to 51 inches long. Make sure the golf travel bag you choose can accommodate yours.

Do you want to carry your bag or put it in a cart? A stand bag that you carry may be easier to transport between an airport, taxi and a hotel, but using a cart on the course makes the long walk a lot easier. However, it may not be easy to bring your cart when you travel, so you would need to rent one when you arrive at the course. If you plan to rent a golf cart vehicle, you can choose either style of bag.

How many clubs does it hold? You may not decide to bring all of your clubs when you travel, and if so, your travel bag won't need as many club pockets as your usual bag. If you are unfamiliar with the terrain and want all of your clubs at your disposal, then look for a bag with enough club pockets to accommodate them all.

Buy Golf Bags
Back to Guides Directory