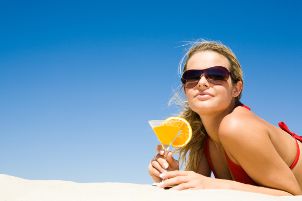 Every woman deserves to feel great about herself, even when she's wearing a swimsuit. If you're not sure what to look for, then you may not be showing off your best assets. You can look good and feel amazing in a swimsuit. Just be sure to look for these features when you're shopping for women's swimwear.
Swimsuits That Flatter:

High-waisted bottoms: For women who want to a little more coverage on the bottom, a bikini with a high waist is the answer. Pair the high-waisted bikini bottoms with a triangle top or a ruffled top to emphasize a smaller chest and balance everything out. This look not only flatters a pear-shaped body and conceals a muffin top, but it also has a sweet retro style.

Deep V-neck tops: One-piece swimsuits with a deep V-neck will add curves to a narrow frame. The plunging neckline look is perfect for thin women who want to emphasize their slim waists while amplifying their busts.

Ruching and shirring: Ruched and shirred swimsuits feature fabric that is gathered a bit, which helps to conceal any bumps and lumps you don't want to show. These styles are excellent for mothers and other women who have lost some of the elasticity in their skin.

Halter tops: One-piece swimsuits and bikinis are both available with halter tops, and it's no wonder this neckline is so popular; it's flattering on so many women. This supportive style works well for women with full busts, especially if the top also has some underwire. Alternatively, halter tops can be used to give women with smaller chests a little extra emphasis.

Colorful illusions: One-piece suits offer a lot of possibilities when it comes to color placement. If you want to create the illusion that you are thinner than you really are, look for a one-piece with sides that are darker than the rest of the suit. The dark color will make it seem like your sides just disappear. If the center color is in an hourglass shape, it will look like that's your shape, too.
Swimwear Tip:

Always remember that, if you love the style and feel confident, you're sure to look gorgeous.
What Do You Want to Do Next?

Shop for One-Piece Swimsuits
Shop for Two-Piece Swimwear
See All Women's Swimwear
See All Guides
Read More Clothing & Shoes Guides
Learn More about Activewear