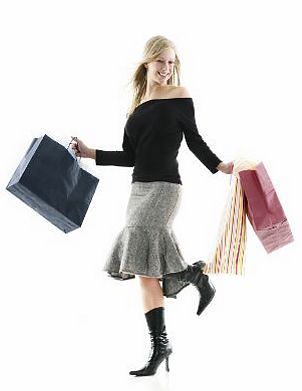 A figure-flattering skirt can take you from the office to a night on the town and everywhere in between. The question is this: How do you find the perfect skirt? With a bit of knowledge about the styles you like and the fits that look best on you, you can follow these tips to select a skirt that will make you look and feel fabulous.
Choosing a Flattering Skirt:

Figure out your body type. Women generally fall into four body types: apple, pear, hourglass and column. If you're an apple shape, you have a round stomach and bottom. Pear-shaped women are small on the top and round around the hips and bottom. An hourglass-shaped woman has a shape that curves out at the bust, curves inward to a defined waist and curves outward again to the hips. If your shape is a column, your body is about the same width from your shoulders to your feet.

Determine problem areas. If you want to minimize large hips or thick thighs, stay away from hip-hugging skirts and go for high-waist and A-line skirts, which draw attention to the upper part of your body and balance the pear-shaped figure. If you have larger knees and calves, look for a pencil skirt that reaches just past your knees and wear heels that slim your legs. Disguise thick ankles by wearing long peasant skirts with boots or heels.

Get the right fit. No matter what your body type is, a skirt will only look good on you if it fits correctly. Buy a larger size if the skirt is tight on your stomach or thighs, as this will make walking difficult. Find a skirt that gives you room to breathe but is not loose enough to fall off your hips.

Find a color and pattern. Dark colors are slimming, but white and khaki skirts can also look classic and polished. Plaid skirts and pleated skirts can be flattering if you have a column or hourglass figure. Stay away from large floral prints and other oversized patterns unless you are very thin.

Pick a style. Pencil skirts are universally flattering because they have high waists and slim bulges and bumps. A-line skirts, which have fitted waists and flare out in a triangle shape, are also flattering on most women. Long, ankle-length skirts look best on tall women because the style can overwhelm women with petite frames. Petite women, however, can pull off mid thigh-length skirts and ruffled styles. For a cut that looks best on everyone, find a skirt that hits either just above or below the knee.

Buy Skirts
Back to Guides Directory