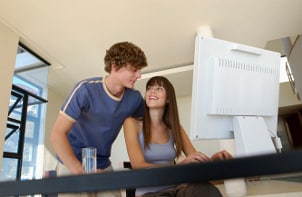 Choosing the right kind of computer desk for your home office is vital. With just a little planning, you can find a computer desk that simplifies your work space and makes the time you spend at your computer much more enjoyable. Comfortable computer desks can also be beneficial to your work performance. With the right kind of computer desk, you can stay organized and avoid printer and fax cable wires getting tangled across your workspace. Keep reading for tips and hints on choosing a computer desk.
Choosing a Computer Desk:

Decide where you're going to put your computer desk. Take a look at your room before you set up your new home office furniture. Your computer desk should have easy access to electrical outlets and a way to connect to the Internet. Make sure that you don't block any heating vents, high-traffic areas or windows. Once you've found the perfect spot, you'll need to measure the area with a tape measure to know how big your new computer desk can be.

Plan out what you'll put on your computer desk. If you're planning to keep your keyboard, printer, monitor and mouse all on one surface, then you're going to need a fairly large desk. If you want to use the top of your home office furniture as a writing surface or think you'll need additional space, then think about getting an L-shaped desk. If you don't have a lot of room, then think about buying a computer desk with shelves so you can store your computer or printer underneath the desk's surface. If all you need is a place to surf the Internet, then a simple workstation desk should suffice.

Decide if you want additional options. Some computer desks feature keyboard trays that pull out, and some desks also offer additional shelving for CDs, books and other small items. You may want to think about investing in computer desks that come with drawers and cabinets for extra storage for things like software manuals and extra printer paper.

Pick your favorite style and color. From simple workstations to large and spacious L-shaped desks to glass-top, wood and metal-framed desks, you have plenty of desk options to choose from. Once you find a style that you like, simply select one that will match the rest of your home office furniture.

Buy Computer Desks
Back to Guides Directory