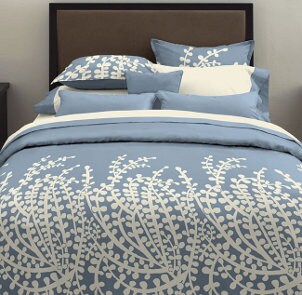 Do you wish you could give your bedroom a stylish new look in a flash? A comforter set can help. With the assistance of a comforter set, any bedroom can become a place of fashionable comfort in no time. Comforter sets are available for people of all tastes, so whether you have a goal to turn your studio apartment into a trendy retreat or wish to give your home a classic, opulent feel, finding the right bedding shouldn't be too difficult. If you are looking for new bedding for your home, read over the article below to learn how to choose a comforter set.
Choosing a Comforter Set:

Determine the size of comforter you need. Comforter sets are sold for every size of bed, so before you start looking, determine what size of bed you have. Whether you have a twin, twin XL, full, queen, king or California king bed, you can count on finding a comforter set that will fit it.

Think about comforter set style. Comforter sets and bed-in-a-bag sets are available in an incredible range of styles, meaning there is something within these bedding categories for virtually everyone. If you are the type who likes your home to look sleek and stylish, consider contemporary comforter sets. These bedding sets feature the latest design trends and innovations. Some bed-in-a-bag sets with modern styling offer bright, bold colors and prints, while others take a more minimalist approach with subdued tones and subtle prints. People who want a more classical look for their bedrooms can count on comforter sets, as well. There are plenty of traditional comforter sets available. These sets usually have ornate, luxurious pattern designs.

Consider comforter fabric. Comforter sets are created using a wide variety of materials. It doesn't matter what your fabric preference is; you are likely to find a bed-in-a-bag set that will suit your needs. Many of the best-selling comforter sets are created with cotton. From super-soft Egyptian cotton to homey, fun denim, it's possible to find all kinds of cotton-based comforter sets. If you want something with a luxurious look and feel, consider sateen or silk. Looking for winter warmth? Think about bedding sets made with wool and flannel.

Buy Comforter Sets
Back to Guides Directory