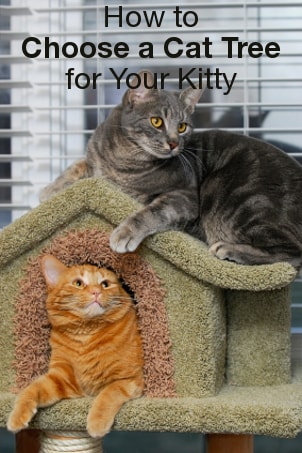 SHOP CAT FURNITURE NOW >>
Sometimes called cat towers, cat trees are built to give your cat a place to scratch, rest, play, and perch. Cats are protective of their territory, and giving them a place of their own that's above everything else makes them happy. A cat tree can also keep them from scratching up or taking over your furniture. Here's how to choose the best cat tower for your kitty.
Choosing a Cat Tree:

Choose the right size and dimensions. The tree should have at least one platform per cat, one scratching post per cat, and one cozy sleeping area for each cat to curl up in.

Find out the maximum weight load of the cat tree. The higher the number, the more secure the tree will be. Cats often run and leap onto cat furniture. Toddlers and even dogs may try to climb on it. Choose a cat tree that is very sturdy and can handle the weight of several cats playing on it.

Note the materials used to make the cat tree. Choose one that is made of real, solid wood (not treated wood, as it may contain harmful chemicals) and is covered with nylon or olefin carpet, not fake fur or flannel, which won't stand up as well to cats' claws.

Examine the scratching post. If it is of good quality, your kitty will use it instead of the leg on your dining room table. Choose a cat tree that has a scratching post wrapped with natural sisal rope. Oiled rope is toxic. The thicker the rope, the better the scratching post for your kitty's claws.

Find out how the cat tree is fastened together. Screws are more secure than nails, and you'll be able to tighten the screws after the tower has been through some use. The carpet on the cat tree should be stapled, not glued, as glue can be toxic to your kitty.

Consider the style. Choose a cat tree that you think is attractive and matches the style of your room. You are more likely to interact with your cat if you place the cat tree in a place where the family gathers. If you're not sure which room to put it in, read our guide on the best places for a cat tree to get ideas.

See if there are any extra features. Some cat towers include dangling toys for kitties to play with. You may want to see if there are any available, if you think your cat needs more cat toys to stay engaged with the cat tree.

Shop Cat Trees
Shop Cat Tunnels
Shop All Cat Furniture
See All Guides
Read More Pet Guides
Learn More about Pet Gear & Supplies