How to Change the Look of Your Ceiling Fan
by Amanda Mears
Published February 6, 2012 | Updated August 10, 2015
Whether your ceiling fan is outdated or just too plain for your home, you can easily make changes to it that will give it new life. To avoid switching out your entire ceiling fan fixture, focus on changing the look of the blades or the light covers. Here are a few tips for giving your ceiling fan a facelift.
Ceiling Fan Updates: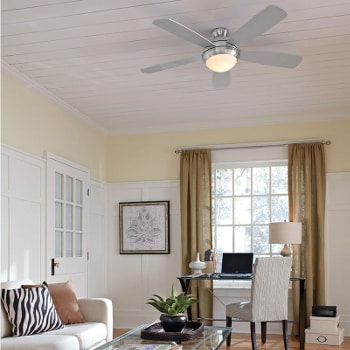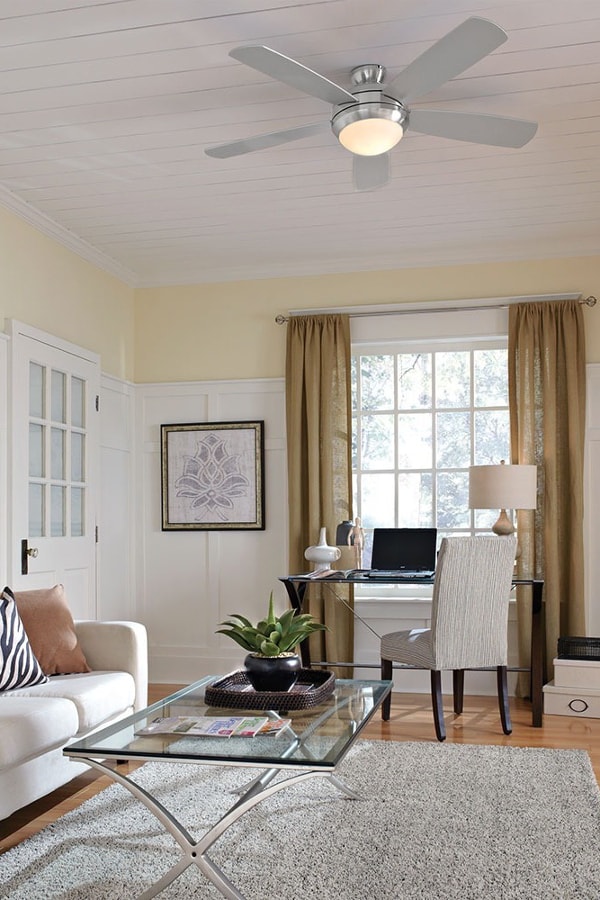 Shop Ceiling Fans ▸
Use Vinyl Decals

Vinyl decals often show up on walls and windows, but they can also bring more design to your boring ceiling fan. The best part about using vinyl decals to change the look of your ceiling fan is that they aren't permanent, so you can switch them often and remove them easily if you're just renting. To cover white blades, look for dark decals with simple patterns, like leaves or scrolls. If you want to cover your wood blades, look for large gold decals that make your fan look more elegant.

Add a Ceiling Medallion

Ceiling medallions are just for chandeliers. You can add one to your ceiling fan to give it an elegant touch and to cover any marks on the ceiling around the base of the fan. Medallions are available in styles that range from modern to ornate, so be sure to choose one the complements the fan as well as the rest of the room.

Paint the Blades

This trick is easy to do yourself. All you have to do is unscrew the blades, paint, and then re-attach them. Try painting the blades a bright color for a children's room or touching up the paint on white fan blades for a fresher feel. If you despise the hardware that came with your fan, remove the blades and paint the fixture using acrylic paint and an acrylic sealer. Use a paintbrush to cover the entire fixture and let it dry before putting the blades back on.

Change the Light Fixtures

Sometimes, the glass case covering the bulbs of your ceiling fan is the reason the fan looks outdated and doesn't match your style. There a couple of options if you've decided that the glass fixture isn't working for you anymore. You can either find replacement light covers that fit the model of your ceiling fan or you can paint them. To create a diffused color effect, mix acrylic paint and water, and then brush the mixture on the inside of the glass with a sponge brush. Let it dry completely and then re-attach the glass to your ceiling fan.