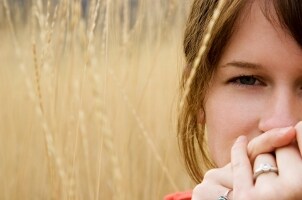 You simply adore your new engagement ring and you want it to look this lovely for the rest of your life. Proper jewelry care is important for preserving your engagement ring and wedding ring. Keeping your rings clean will keep them looking their best, but it can also help to protect the stones and settings. Storing your wedding rings properly will keep them safe and secure. Use these tips to ensure that your engagement ring will shine brightly on your 50th wedding anniversary.
Caring for Your Engagement Ring:

When to remove your engagement ring: You want to wear your engagement ring all the time, but sometimes it is best to leave it in your jewelry box. Remove jewelry when swimming so that you don't lose it in the water. Keep your hands bare when gardening, painting or engaging in other home improvement projects. You might consider removing your engagement ring before doing the dishes or cooking. Using common sense is the best jewelry care tip; don't wear your wedding jewelry in any situation where it may be damaged or become excessively dirty.

How to clean your engagement ring: Even if you are great about not wearing your engagement ring while changing your oil and going to the gym, you'll still need to clean the jewelry regularly. Cleaning your engagement ring and wedding rings can be a very simple process. Diamond rings with gold or platinum settings can be cleaned in warm, soapy water and scrubbed gently with a soft brush. Keep a spare toothbrush on hand just for jewelry cleaning. An ultrasonic jewelry cleaner is also great for engagement rings. If your ring is made of sterling silver, you will also need to polish the jewelry from time to time with silver polish and a soft cloth. If your engagement ring has soft gemstones such as opals or pearls, don't immerse the ring in water; instead, polish your ring with a soft damp cloth.

How to store your engagement ring: Without a special spot for your ring, it may easily become lost. It is best to store your engagement ring in a jewelry box or in its original ring box. Store it separately from other pieces of jewelry. A fabric-lined ring slot in your jewelry box is an excellent place for an engagement ring. If you remove your ring frequently, keep a small jewelry box near the kitchen or in the bathroom.

Buy Engagement Rings
Back to Guides Directory