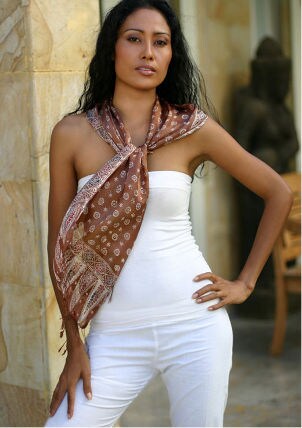 A silk scarf can be an elegant complement to almost any wardrobe because it adds vibrant color when worn with many different outfits. If well cared for, a silk scarf will last for years, making it a smart investment in quality clothing. A few steps will ensure that your scarves will be a beautiful part of your wardrobe for years to come.
Caring for Silk Scarves:

Store your silk scarf away from direct sunlight. Roll the scarf to prevent creasing rather than folding it or simply stuffing it into a drawer. If you are storing your silk scarf for long periods of time, take it out every six months to allow air to circulate around the silk. As a natural fiber, silk needs to breathe.

Protect your scarf from harsh chemicals and heat. Too much direct sunlight will fade the colors. Harsh chemicals, such as perfume sprayed on your scarf, may cause spotting or even cause the silk fibers to deteriorate. High temperatures will often cause the fibers to shrink. Do not ever put a silk scarf in the dryer.

Dry-clean your scarf if it is a crinkled or brocaded silk. If there is any form of embroidery or embellishment on your scarf, take it to a dry cleaner instead of relying on products at home to clean the silk yourself.

Keep your silk scarf dry. Prolonged exposure to dampness or water will start to stretch and damage the silk fibers. Hand-washing in warm water with a gentle detergent will not damage the fabric as long as there are no embellishments and the scarf is not twisted or agitated in the process. To dry women's silk scarves, gently press them between two layers of a dry towel. Do not twist or wring it out.

Iron a wrinkled or creased scarf while damp. Use a low heat setting so that the steam will gently press out all creases. Hang women's silk scarves indoors to dry to prevent damage from the sun and wind.

Buy Scarves
Back to Guides Directory