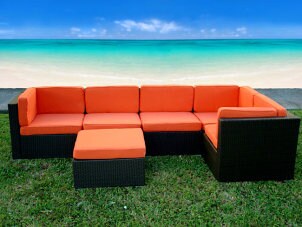 Things You Need:
Paste wax and/or rust remover product
Mild soap
Hose or pressure washer
With proper care and maintenance, your outdoor furniture can be enjoyed season after season. Be sure to read and follow the manufacturer's instructions for caring for your patio furniture. Here are a few general maintenance tips for the most common types of outdoor furniture.
Outdoor Furniture Care:

Iron, steel and aluminum: The biggest threat to metal-frame patio furniture is rust. Some of the newer metal frames are rust-resistant and require less maintenance. If your metal frame furniture is not rust-resistant, seal it with paste wax after cleaning it with mild soap and water. If your metal outdoor furniture already has a few spots of rust, you can treat it and protect it with a brand-name rust remover.

Wood: If your wooden outdoor furniture has been sealed with exterior-grade varnish, it can be cleaned with soap and rinsed with water. If your wood patio furniture has not been sealed, you will want to treat it with varnish as soon as possible. Wooden patio furniture should be stored inside a garage or shed during the winter with the exception of cedar and teak outdoor furniture, which contain natural oils that protect the wood from moisture damage.

Wicker: Rinse wicker patio furniture with a hose or pressure washer. If the wicker is really dirty, you can use mild soap with water. Once the wicker is dry, be sure to seal it with paste wax to protect it from stormy weather.

Resin: Plastic resin outdoor furniture is the easiest to care for. All you really need to do is spray it off with water when it gets dirty.

Fabric: Hammocks, cushion covers and fabric chairs can be machine washed on the delicate cycle; use mild soap to avoid fading. To avoid shrinkage, hang these items to dry and refit any chair fabric over the frames while it is still damp.

Patio umbrellas: To clean your patio umbrella, use a soft brush and mild soap and water. Umbrellas with metal or wire frames may need oiling. Seal wooden frame umbrellas with paste wax to protect from moisture.

Buy Patio Furniture
Back to Guides Directory