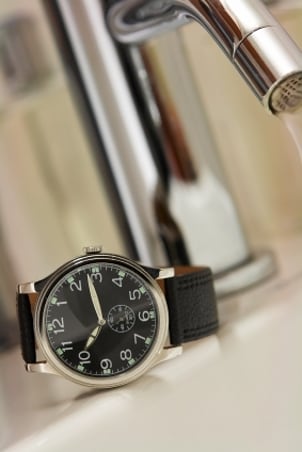 A luxury watch is a fantastic investment, whether you prefer Swiss mechanical watches or Japanese quartz watches. You'll want to protect this investment by caring for your luxury men's watches and ladies watches thoughtfully. Luxury watches and designer watches require some special care to keep them running perfectly and looking fantastic. A brand-new luxury watch is always a great accessory, whether you are dressing up in the evening or keeping it casual on the weekend. Use our tips to keep your designer watches in like-new condition.
Caring for Luxury Watches:

Expert attention: Take your men's watches and ladies watches to a watch expert every three to four years. A professional can fine-tune mechanical and automatic movements and change quartz batteries. Watches can be sensitive instruments, and having the routine maintenance performed on a schedule will ensure that your luxury designer watches continue to keep time accurately.

Careful cleaning: Treat your luxury watches as well as you treat your fine jewelry. You need to clean your luxury watches, but you should do it carefully. Use a soft, slightly damp cloth to clean metal watch cases and bracelets. Avoid getting leather straps wet; moisture can damage the appearance of the strap. Don't immerse your watch in hot water. Even if your watch is water-resistant, hot water can damage the gaskets. Diamond embellishments can be gently scrubbed with a soapy brush, and rubber straps can be immersed in soapy water. Consider removing rubber straps from the watch case before putting them in water.

Mindful wearing: While luxury watches are meant to last a lifetime, you may want to consider taking them off for some activities. Even a durable watch can be destroyed if it is struck with a golf club. Extreme temperatures can have a negative impact on watches. Storing your watches in a high-quality watch box will protect them and keep them organized. If your watch has leather straps, be careful about moisture. If a leather or fabric strap becomes damp, let it air dry before returning the wristwatch to its box. Automatic wristwatches are always ready to go with a quality watch winder. Take caring for your luxury watches seriously to get the most out of your investment.

Buy Luxury Watches
Back to Guides Directory