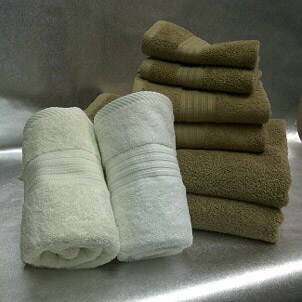 There's nothing quite like wrapping yourself in the most luxurious bath linens after stepping out of the shower or tub. Investing in quality bath towels and washcloths can turn the mundane act of bathing into a relaxing daily ritual. Stockpiling your linen closet with the best bathroom linens available isn't cheap, so you'll want to protect your investment by using the proper laundering techniques on all bath items. When you want to prolong the life of your bath towels and bath rugs, there are a few tips and tricks that are worth checking out. Keep reading to learn all about how to care for luxury bath linens.
Caring for Luxury Bath Linens:

Sort by color. Take the time to sort your towels by color before washing them. This will help avoid colors bleeding together and will prolong the life of your luxury bath linens. Towels can generally be sorted into three categories: white, color and dark. If you're short on time, combine the colored and dark towels. However, to keep them looking their best, white bathroom linens should always be washed separately with bleach. Bath rugs can often wear down cotton towels, so always make sure to wash them separately.

Adjust washer settings. Although you want to wash all bath linens in hot water to kill mold and bacteria, many washers have an option for a cold rinse cycle. Rinsing your towels in cold water after washing will help the colors stay bright and will keep the fibers from being worn down quickly.

Use gentle detergent and fabric softener. Look for detergents that are mostly chemical-free to wash your luxury bath sheets and bath mats. These are formulated without harsh detergents that break down the soft cotton that your linens are made from. Add the detergent to your washing machine after it has filled up with water and then place towels in. This will dilute the detergent and prevent buildup or discoloration.

Dry with care. After your towels have gone through the wash cycle, it's important to remove them immediately. Leaving them in the washing machine for extended periods of time will cause the growth of bacteria and mildew that will ruin your towels. After removing them from the washer and shaking them out to fluff fibers, place towels in the dryer with a dryer sheet and turn it on to medium heat. This will reduce shrinkage that can cause your towels to become rough and worn-looking.

Buy Bath Linens
Back to Guides Directory