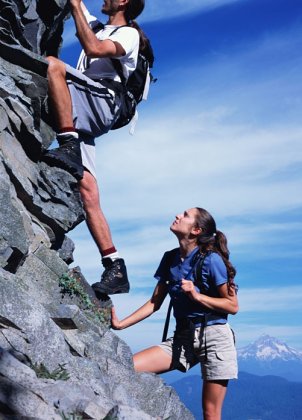 Things You Need:
Boot sealer
Silicone treatment
Saddle soap
Wire brush
Old toothbrush
Baking soda
Leather protector
Newspaper
Caring for your hiking boots will prolong their life and make them more comfortable during long hikes. Both men's boots and women's boots provide support during the most challenging of climbs. Hiking boots are designed to protect your feet while you're enjoying the outdoors, and proper maintenance will determine how much comfort and protection they can offer. Neglecting your hiking boots can cause an unpleasant time on the trail, but a little attention to detail will ensure you have the safest and most comfortable footwear possible.
Instructions:

Treat new hiking boots with a high-quality boot sealer. Before wearing the boots, apply the sealer according to the manufacturer's directions at the points where the boot meets the sole. This can help to prevent water penetration.

Waterproof boots with a silicone treatment. Choose a solution formulated specifically for hiking boots. Apply a thin coat of the treatment to the entire outer surface of the boots, except the soles, laces and grommets, with an old toothbrush. Allow the boots to dry for at least 24 hours before wearing. Waterproof hiking boots make rainy climates or excursions more comfortable.

Wash leather boots thoroughly using saddle soap. Allow them dry completely in a warm place. Apply a leather protector to clean, dry boots according to the manufacturer's instructions.

Remove dirt and mud immediately after taking off your hiking boots. Using a stiff wire brush, move over the surface of the boots in a single direction until no more dirt can be removed. Always remove dirt after every hiking trip and before storage.

Clean boots at least every two weeks. Use a saddle soap for leather hiking boots and clean them more frequently if you are using them heavily or they have become extremely dirty. Allow them to air dry for at least 24 hours for best results. Reapply silicone treatment to waterproof hiking boots and use a leather protector once the boots are completely dry.

Remove odors from the inside of hiking boots. Sprinkle the soles with baking soda and allow them to air out. You can also use odor-absorbing foot inserts.

Store clean hiking boots in a cool, dry location. Place them in a shoe box in the closet for best results. Take unused leather hiking boots out once a month and allow them to air out to prevent mold formation or mustiness.
Tips and warnings:

Spray-on waterproofing treatments are available for hiking boots, but they are generally not as effective. They are more convenient, but manual application results in better coverage.

Dry the inside of hiking boots by stuffing them with crumpled newspaper, which will absorb excess moisture.

Never put hiking boots in the washing machine or dryer, as the extreme temperatures could cause irreparable damage.

Do not apply a boot sealer to hiking boots that are labeled "waterproof" by the manufacturer. The sealant could damage the material. If you are unsure if your boots are considered waterproof, contact the manufacturer for more information.

View All Men's Boots
View All Women's Boots
Back to Guides Directory