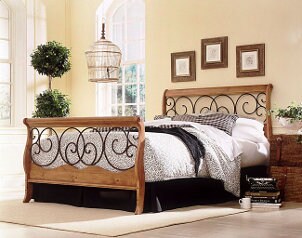 Few pieces of furniture are as important in your home as your bed frames. The bed frames you choose will be the centerpiece of each bedroom in your home. Chances are you have a variety of bed frames in your home, whether you have kids beds, a queen bed frame, king bed frame, full-size bed, twin bed frame, storage bed, loft bed or a few canopy beds. Although there are many different kinds of bed frames, from wood to metal bed frames, none are immune to regular wear and tear over the years. When you buy a bed frame, you probably want it to last a while. Proper maintenance and care of your bed frames will ensure they last for years to come. Here are some tips on how to help extend the shelf life of your bed frames.
Caring for Bed Frames:

Consider wood: Before you choose your bed frame, remember that a wood bed frame is stronger and more reliable than a metal bed frame. Metal bed frames tend to squeak and can be prone to rust. Quality wood bed frames are very sturdy and can last for many years. On the other hand, metal bed frames are often cheaper. Plus, some quality metal bed frames can be very reliable. Be sure to check the quality of the bed before you make a purchase, regardless of material.

General cleaning: Make sure you keep your bed frame clean of general dust and dirt buildup. If you let dust and residue remain for too long, it can permanently tarnish the appearance of the bed frame. Every other week or so take a damp cloth and dust off the entire bed frame. If possible get the inside, underneath the mattress. Afterward, make sure to completely dry the entire bed frame. Too much moisture can cause a wooden bed frame to warp and a metal bed frame to rust.

Don't jump on the bed: This should be fairly obvious, but putting too much strain on any bed frame is the fast track to its ruination. Bed frames are made to withstand a good deal of evenly distributed pressure, not quick, dramatic increases in weight. Roughhousing can quickly bend a metal bed frame and crack a wood one.

Buy Beds
Back to Guides Directory