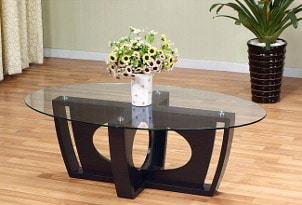 Things You Need:
Glass cleaner
Paper towels or newspaper
Vinegar
Coasters
WD-40 or other lubricant
Fashionable and elegant coffee, sofa and end tables make a stunning addition to any room. Their unique and versatile appearance easily allows them to match many different living room styles ranging from modern to classical or traditional. A glass coffee table acts as an instant furniture focal point in your living room. However, because it's made of a delicate material, it must be treated with caution and care in order to make it last. The glass table top is susceptible to scratches and nicks. However, keeping glass coffee tables clean and scratch free is easy if you follow the instructions below on how to care for a glass coffee table. Your glass coffee table will last for many years if treated with care.
Glass Coffee Table Care:

Avoid piling heavy items on your glass coffee table. Glass coffee, sofa and end tables can be sturdy, but everything has its breaking point. Too many heavy things placed on top of the glass coffee table can cause the top to crack or even break. If you're rearranging or remodeling try to avoid storing heavy boxes on the top of your fragile living room furniture.

Be gentle when placing items on your glass coffee table. Avoid tossing books or magazines on the table. Instead, set them down gently. A hard jolt can chip or crack the glass top. Also be sure to use coasters for your drinks and food if you bring these items into your living room. Coasters will protect your glass coffee table from heat and water rings, meaning you won't have to worry about cleaning them.

Clean your glass coffee table regularly. The transparency of glass makes it easy to see dust, fingerprints and streaks. A regular maintenance schedule will help to keep your glass table clean and sparkling. Use window cleaner or a mixture of water and vinegar to get a streak-free glass coffee table.

Avoid displaying items that could damage the glass. Scratches on furniture are a part of life; however, you can take precaution with your living room furniture and avoid this scenario. Avoid placing accent pieces that have sharp edges or rough bases directly on the glass top. When you're cleaning your glass coffee table, be aware of rings or other jewelry that could scratch the glass top.

Keep your glass coffee table away from high-traffic areas. If at all possible, keep your glass coffee table away from high-traffic paths. Someone in a hurry could knock into your glass table and cause serious damage.
Tip from Overstock.com:

If crumbs or liquid gets stuck in between the glass and the table, they can "glue" the glass and base together and look dirty and messy. To un-stick the glass, simply spray WD-40 or similar lubricant into the crack and let it sit for a few moments. Start wiggling the glass table top back and forth to loosen it. Keep adding lubricant as your glass coffee table needs it. Eventually you'll be able to lift the glass top free. Take a damp rag and wipe off the leftover beverage, crumbs and lubricant and replace the glass.

Buy Coffee, Sofa and End Tables
Back to Guides Directory