How to Buy the Right Size Kitchen Sink
by Stacy Goll
Published September 30, 2009 | Updated June 17, 2015
Whether you're building a new home or remodeling your old kitchen, you may have some questions about kitchen sink size. The major things to consider are the depth, the shape, the available countertop space, and if your countertop already has a cutout or needs one to be made. You will also want to consider the size of your kitchen. A cozy kitchen will look and function better with a size-appropriate sink as opposed to a jumbo triple-basin sink. On the flip side, large kitchens can accommodate larger sinks.
Kitchen Sink Considerations: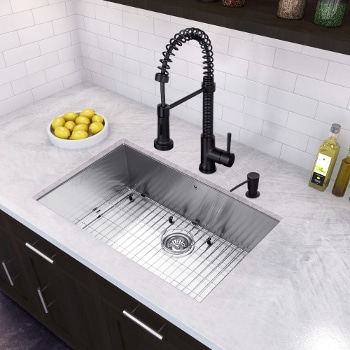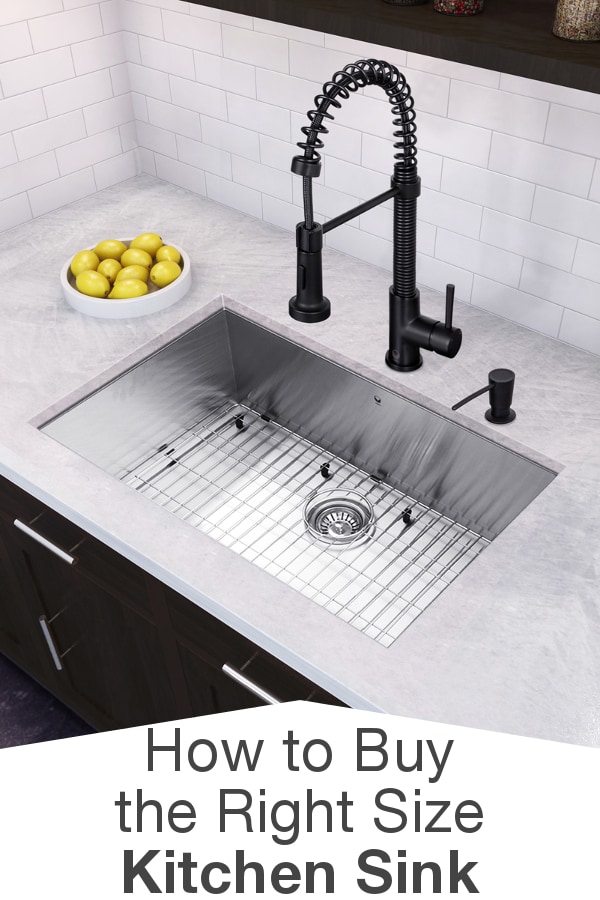 Shop Sinks ▸
Kitchen Size

As a general rule of thumb, if your kitchen measures 150 square feet or less, a 22-inch by 24-inch standard single-bowl sink will fit your kitchen nicely. Larger kitchens will do well with multi-bowl sinks.

Base Cabinet Size

Every kitchen sink has a minimum cabinet size. A minimum cabinet size is the measurement of your countertop and under-sink cabinet. The average cabinet size is 24 inches from front to back. To figure out the cabinet size, measure the area where the new sink will be placed. Measure the area right to left from edge to edge, allowing 2 or 3 inches on each side for mounting.

Shape and Placement

The shape of a sink can determine where the sink should be installed. Corner sinks are an example of this.

Single or Double Basin

Decide whether the sink will be a single basin or multi basin. This will help to determine the space needed under the counter for installation, as well as how a disposal will be installed, if you choose to use one.

Mounting Style

The different mounting options are overmount or self-rimming, undermount, and seamless or integral. Each type of mount will be installed differently which can cause a slight variance in the space needed for the sink.

Backsplash

If there's a backsplash, the average is 1/4 to 1 1/4 inches thick, which can decrease the space available for your sink. If there's not a backsplash already added, consider tiling the wall behind the sink. Tiling the wall will help keep the maximum space available for installing the sink.

Common Tasks

Ask yourself what types of tasks you need your kitchen sink to be able to handle. A deep basin sink is great for large pots and pans while a small basin, also known as a prep sink, is good for washing and peeling produce. Sometimes there may be a mixture of tasks done in the same sink or multiple people using the sink at once. There are many different sizes and configurations of sinks available to suit both you and your kitchen.