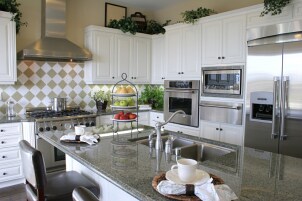 When it comes to essential large appliances, dishwashers are one of the most common and most used in homes everywhere. For first-time buyers, figuring out what size of dishwasher to choose may be a little confusing. Aside from size, you also need to consider capacity, location, family size and more. This guide will help you make sense of your different options.
Buying the Right Dishwasher:

Size and capacity: The standard dishwasher size is 24 inches wide. A standard dishwasher has a capacity size of 12 place settings. The standard 24-inch dishwasher is a good size for a family of four or more. If you have a very large family, a 30-inch dishwasher is an option if you have the kitchen space. For couples, singles and small families, a compact, 18-inch dishwasher with a capacity of about eight place settings will be adequate.

Permanent: A built-in dishwasher is permanently installed under your countertop, next to your kitchen sink, under your kitchen sink or under your cooking range. Built-in dishwashers are best for homeowners with enough cabinet space to accommodate an 18- or 24-inch dishwasher or independent dishwasher drawers.

Portable: Portable dishwashers are a good option for apartments or homes with limited kitchen cabinet space. Portable dishwashers vary in size from a countertop unit that holds a single place setting single to an 18-inch to 24-inch-wide rolling module with a usable butcher block or countertop over the dishwasher. Which one you should buy depends on how much space you have available in your kitchen. If you're short on counter space but not short on floor space, a rolling countertop module will be perfect. If you're short on floor space but you have enough counter space, a countertop dishwasher will be the better choice.

Replacing your old dishwasher: If you're replacing your old built-in dishwasher with a new one, you should still measure the space before you buy a new dishwasher. If the floor in your kitchen has ever been replaced, you may find that the floor underneath your cabinets is uneven with the rest of your floor. You will need to take any height inconsistency into account when you choose your new dishwasher.

Buy Dishwashers
Back to Guides Directory