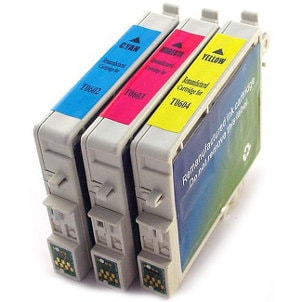 Choosing the right ink cartridge for your inkjet printer is important and fresh ink is essential for quality printing results. Refilling old cartridges may seem less expensive, but it requires more technical skill and the procedure will vary from cartridge to cartridge. Many inkjet cartridges are not simply ink receptacles, but they also contain electronic circuits. These circuits need to be reset when refilled. Unless you have the tools and the skill to refill them, it's recommended that you buy either original or compatible ink cartridges.
Replacing Inkjet Cartridges:

Determine the make and model of your inkjet printer. The printer model can usually be found on your printer. Check for a plaque or sticker on the front, back or bottom of the printer. The user's manual will also tell you what your printer's model number is.

Check out your user's manual and existing cartridge. Learning how to change the ink cartridge in your printer and finding out what type of ink it uses will require a quick bit of studying. Each printer is different, and you will need to know all the steps to change it properly. Your printer's manual is the best place to find this information. If possible, open the printer and read the product number on the ink cartridge. If no cartridge is present or you cannot open the inkjet printer without changing the ink cartridge, consult your user's manual.

Choose a replacement ink cartridge. If you are purchasing a brand-name ink cartridge, the model number of your inkjet printer should be listed in the description of the cartridge. If you want to buy a compatible ink cartridge, look for cartridges that are labeled as "compatible" with the printer model number or the product number of the original ink cartridge. Sometimes the names of the compatible inkjet printers are listed, and sometimes the product numbers of the compatible ink cartridges are listed.
Tip:

Sometimes a new printer will come with an ink cartridge that is a smaller sample size or a nonstandard product. In this case, consult the manual to get the right product number for the ink cartridge replacement.

Buy Inkjet Cartridges
Back to Guides Directory