by G. K. Bayne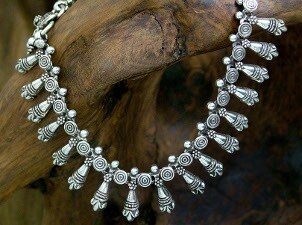 Sterling silver is made from 92.5 percent pure silver and 7.5 percent metal alloy. Common sterling silver metal alloys include copper and nickel. The alloys in sterling silver strengthen the silver and make it strong enough for jewelry production. Sterling silver jewelry is gorgeous, luxurious, valuable and also affordable. Silver jewelry pieces, such as bracelets, necklaces, rings and earrings, match almost any color ensemble and skin tone. Buy sterling silver jewelry for your collection and enjoy wearing sterling jewelry every day of the week. Use our tips to choose beautiful silver jewelry for yourself or someone special.
Buying Sterling Silver Jewelry:

Check for authenticity: When buying sterling silver jewelry, there are a few things you can do to make sure the metal is genuine. First, look for a stamp on sterling jewelry indicating the metal type. Pieces of sterling silver jewelry will often be stamped with the number 925. You might also find "Sterling," "Ster" or "Sterling Silver" stamped on a piece of sterling silver jewelry. Some pieces of sterling silver are not stamped with numbers, words or letters and may still be genuine. In this case, it is important to choose a jewelry dealer or retailer you trust.

Shop your personal style: Sterling silver jewelry can be found in almost any style, size and price range. These attributes make silver jewelry the perfect choice for self-expression and experimentation. Sterling silver pendants and charms depicting your hobbies, beliefs, interests or occupation are fun and individual. Silver chains can be worn with practically everything in your wardrobe and layered for a unique look. Try a pair of dangling sterling silver earrings or buy sterling silver rings covered in unique gemstones.

Consider handmade pieces: Sterling silver is pliable and budget-friendly, making it a popular choice for independent jewelry artisans. Handmade sterling silver jewelry is often completely unique and one-of-a-kind. Support local artisans or jewelry designers from around the world with a handmade pair of sterling silver and gemstone chandelier earrings or a handmade necklace made of silver and beautiful pink shells.
Sterling Silver Jewelry Tip:

Sterling silver jewelry is prone to tarnish. Consider purchasing an anti-tarnish pouch or jewelry box for your sterling silver and invest in quality sterling silver jewelry cleaner to keep your pieces shining.

Buy Jewelry
Back to Guides Directory