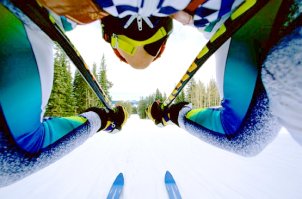 Buying proper ski equipment is essential if you want to really enjoy your time skiing. The seemingly endless supply of equipment available today can be confusing, but don't immediately assume that the most expensive is also the best. The best news is that knowing what to look for in ski equipment is fairly basic, and as long as you look for what you need instead of what's trendy, you'll be just fine. As with buying equipment for any snow sport, it's always wise to know what to look for as you shop.
Buying Ski Equipment:

Start with your ski boots because they are an essential part of the process. While you can easily rent ski boots, it is much better to buy them. Make sure the boots fit comfortably but also snugly enough that they don't easily come off. Taking exact measurements will help you select the right size the first time when shopping online.

Decide whether you want to wear a separate top and bottom or one-piece clothing. You need to wear three layers of clothing while skiing. The first layer is best made from a natural fiber that will keep moisture away from your skin. The second layer needs to be able to absorb moisture. The third layer will be the outer shell and should be moisture resistant but also breathable.

Buy headgear that adequately covers your forehead, ears and neck. Good headgear is essential not only for protecting you against the elements, but also for keeping heat from escaping from your head. Also, find ski gloves that allow you to move your fingers easily while also keeping them warm. Another important thing to consider is buying gloves that will protect your hands and fingers in case you fall.

Look for sunglasses or goggles that will protect your eyes from the glare produced by the sun reflecting off the snow. Make sure the goggles are well-ventilated and coated with anti-fogging materials. Choose sunglasses with polarized lenses. Goggles or sunglasses are an important part of your ski equipment.

Consider using two different types of socks when skiing. Wool outer socks with silk inner stockings keep you warm and comfortable. Add nylon gaiters to make sure the bottom of your pants stay dry and to keep snow out of your boots.

When you're buying skis, know what type of terrain you are going to be skiing on and the speeds you expect to reach. If you are a beginner, stick with compact skis because they are shorter and easier to control. Intermediate skiers should consider mid-length skis as should those who take to bumpy terrain. The longest skis should be reserved for those with a good deal of experience.

Buy Skiing Equipment
Back to Guides Directory