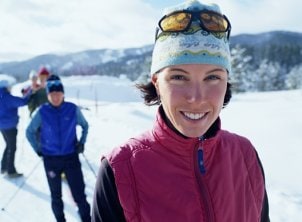 When purchasing ski apparel, it's best to think in terms of layering. Layering helps keep out the cold and wet of the winter environment while keeping perspiration off of your skin, so you stay warm and comfortable. Layering snow apparel also gives you the ability to adjust your warmth to fluctuating environmental conditions while participating in snow sports.
Buying Ski Apparel:

Shop for quality synthetic or natural fiber ski apparel base layers that wick moisture and feel warm and soft on your skin. Some popular performance base layer fabrics include merino wool, silk and polypropylene. Materials like cotton soak up your moisture and let it sit against your skin, bringing down your core temperature, which is why it's important to avoid cotton T-shirts. Purchase base layer clothing for snow sports that pulls perspiration off your body and allows it to evaporate quickly.

Purchase base layer shirts as well as long johns. These should fit close but comfortably on your body. Some skiers may opt to purchase regular underwear in place of long johns, but either way, stick to the right types of wicking fabrics when choosing your ski apparel. Ski socks should be made of the same types of material as other base layer clothing.

Purchase warm, varied mid-layer garments. Middle layers should also be made of good wicking fabric but will be heavier and warmer than base layers. Popular choices include fleece zip turtlenecks, vests and jackets and wool sweaters and jackets. Make an effort to purchase several different garments that offer different levels of warmth; this way you can always have the perfect attire for the weather of the day.

Decide if you'll need a separate pair of mid-layer pants. Fleece pants make for a good mid-layer; however, if you're wearing long johns and using warm, insulated ski pants, a mid layer may just be too hot and restricting. It doesn't hurt to purchase a pair to have for the coldest day, but you may not even need a separate pair of insulating pants.

Purchase quality outerwear. Your outerwear is your protection from the elements of snow, moisture and wind. The qualities that you need from outerwear are waterproofing, windproofing and breathability. Essentially, you want a ski jacket and pants that will prevent any seepage, will block wind and will allow your inside moisture to escape, keeping you warm underneath.

Check ratings. Don't just rely on a high price tag to indicate that a garment offers quality waterproofing and breathability. Many garments will include a waterproof/windproof and breathability rating. The important thing to remember when looking at ratings is that the higher the number, the better the protection.

Purchase ski gloves or mittens. Look for good waterproofing and plenty of insulation to keep your hands warm even in colder temperatures. Mittens are the warmest selection but can limit the use of your hands. Also purchase other apparel accessories such as a warm winter hat or beanie and face/neck protection.

Buy Snow Apparel
Back to Guides Directory