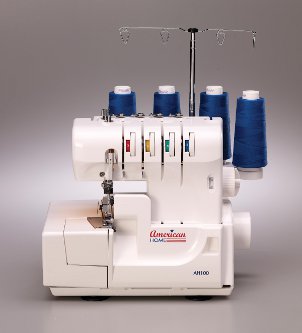 For clothes and other complicated sewing projects, serger sewing machines can be lifesavers. They cut edges, hem, finish seams and more, saving you lots of time and effort. The only problem is that there are so many sergers out there to choose from; sorting through all those options can be intimidating. Fortunately, this guide can walk you through the steps of considering which sewing machines to buy when you're ready to add one to your craft room. Keep reading for tips on buying quality serger sewing machines.
Buying Serger Sewing Machines:

Price: Specialized sewing machines like sergers tend to be more expensive than regular sewing machines, so price will naturally be a consideration when you're purchasing one. Price can vary between brands and within them. Large manufacturers of serger machines are usually more expensive than the less well known brand names, but older models with fewer features can actually be less expensive because of price variation within the big brand name. While this variation and the large price tag in general can be off-putting, don't choose a serging machine based solely on its price. A quality serger sewing machine is a bit of an investment. As with other expensive products, a high-quality serger will usually fall into the middle of the price range; go lower than that and you will lose functionality and usability while going any higher will bring you features you probably don't need.

Brand: There are many great brands of sewing and serging machines, and most of them make great products. If you already have a favorite brand of sewing machines and supplies, you may want to get a serger sewing machine from that brand, too. If you don't favor one brand above another, asking friends or researching the brand online can help you decide which brand of serger or overlock machine would be right for you.

Reviews: Reading other users' reviews on product websites is a great way to narrow down which serger machines are the best. Look for information on a serger sewing machine's usability, special features, care and troubleshooting. Keep in mind that not everyone with that particular model of overlock machine will post a review online, so reviews tend to be a bit skewed, but they are still worth reading because they offer glimpses into user experience with the machine.

Features: Once you know what kind of price point you can afford and have determined a good brand or line of serger sewing machines, it's time to get one with all the features you need. Compact models make the machine usable wherever you need it. Differential feed, multiple threading options, computerized machines and easy-to-thread loopers are a few other great features to consider in serger sewing machines.

Buy Sewing Machines
Back to Guides Directory