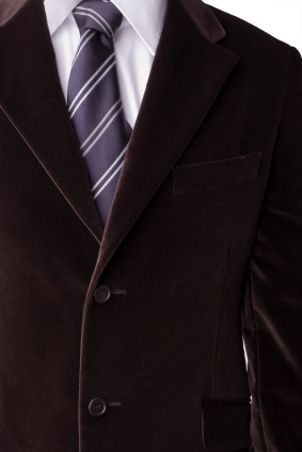 Wearing a suit or even a dress shirt and pants day in and out can get pretty dull, so why not spice things up with men's ties? Pair bold ties with crisp white men's dress shirts or complement colored shirts with men's neckties in subdued tones and patterns. No matter what your style is, you can find men's ties that look great with your suit and let you show off your personality. Read on for tips on choosing ties, both for work and for special occasions.
Choosing Men's Ties:

Select a striped style. Striped men's neckties are classic and look great with every suit. Buy a tie with thick diagonal stripes in two contrasting colors or look for styles with thin stripes or pinstriped patterns. Men's silk ties with several complementary colors, such as navy blue, grey and white, that repeat in a striped pattern are also flattering, especially with a solid black or navy blue men's suit.

Look for simple solids. The easiest way to dress up a men's suit is with men's solid ties in eye-popping colors. A cherry-red tie is a traditional choice, but brown and burgundy colors also look great, especially with a tweed suit. Buy a royal blue or purple necktie to make a bold statement. A forest-green tie worn with a men's dress shirt and a tailored suit looks sharp. Yellow and orange men's solid ties are bright enough to wear with any dark suit and will contrast nicely, especially against a white or light-colored dress shirt.

Dare to choose dots. If a tie with big polka dots isn't your style, look for men's designer ties with small dotted patterns to add variety and clever detail to your suit. A silver necktie with white dots looks classic, especially with a black or grey suit, and men's silk ties with large geometric circles will also make a statement. To brighten up a drab suit, look for colors that contrast well with each other, such as black and white or royal blue and cream.

Pick a paisley tie. Paisley is classic but also looks very contemporary, especially in a flattering color such as light blue, navy or silver. Buy men's designer ties in subtle paisley patterns you can wear with dress shirts and tailored pants. Pink paisley ties also look great with both black and brown suits.

Buy Ties
Back to Guides Directory