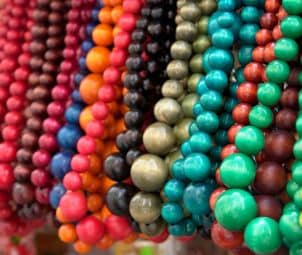 Whether you're a novice in jewelry making or you've been crafting jewelry and beading bracelets for years, you need quality jewelry supplies to create beautiful necklaces, earrings, bracelets, rings and more. With the right beading supplies, jewelry-making tools and other jewelry findings, you're sure to craft stunning pieces for your own collection and as gifts for others. Read on for tips on buying jewelry-making supplies.
Buying Jewelry Tools for Less:

Buy cording or wire to begin. For necklaces and bracelets, you'll want to have elastic cording or flexible wire on hand as jewelry supplies. Silver or gold chains are also essential jewelry-making supplies, especially styles that allow you to add or remove links. You can often purchase jewelry-making kits that include beads, clasps and several different types of cording to save time and money. Once you know how to make jewelry, you can find more advanced kits that include instructions for intricate wire shapes and fancy beading techniques, too.

Purchase beads and spacers you like. Once you have the right chains and cords to make beaded jewelry, you need to decide on the beads and jewelry embellishments that fit your style. Get earthy wooden or clay beads to string on hemp cord for a laid-back beach style or try making jewelry with turquoise and quartz beads for a sophisticated necklace or bracelet that's even appropriate for the office. Find jewelry-making kits, especially bead kits, that offer a variety of beads and jewelry knickknacks if you can't decide on a specific style.

Shop for clasps, hooks and studs for earrings. Don't limit your jewelry-making skills to necklaces and bracelets; try out different earring styles when you're making jewelry for yourself or your friends. Different styles of hooks, ear wires, hoops and posts are everywhere, as are instructions if you're unsure of how to make jewelry as delicate as earrings.

Get scissors, pliers, wire cutters and other tools. With beaded jewelry, especially delicate necklaces and earrings, it's important to have the right tools so you can cut excess wire, remove extra links or broken clasps and bend wire into the shapes you want. Quality scissors and wire cutters are essential, but tweezers, pliers and other similar tools will help you to pick up beads, beading supplies and other jewelry findings easily.

Buy Jewelry and Beading Supplies
Back to Guides Directory