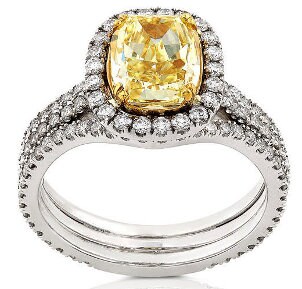 Break the mold with a colored diamond engagement ring set. Colored diamonds are bold and fabulous in any shade. A colored diamond bridal set will set you apart from the crowd and give you something beautiful and bright to wear every single day. Colored diamonds are valuable, so by choosing them you are not giving up any luxury in your engagement ring and wedding band. Use these tips to shop for engagement ring sets with colored diamonds.
Buying Colored Diamonds:

Choose a meaningful hue: Your engagement ring should be meaningful, so choose a color that speaks to you. Some brides like their engagement ring sets to feature colored diamonds the shade of their birthstone. Represent your September birthstone with a blue diamond or celebrate your May birthday with a green diamond bridal set. Consider the meaning of different colors as they apply to your relationship. Yellow diamonds give off the vibe of glowing embers that last and last, while pink diamonds will remind you of Valentine's Day roses and birthday lilies. Look for colored diamond bridal sets that represent you and your romance.

Understand colored diamonds: A bit of knowledge about the jewelry you're shopping for goes a long way. Colored diamonds are not drastically different from white diamonds, but they are rated in different categories. As with white diamonds, carat weight and cut are very important in colored diamonds. Color saturation is the biggest determining factor for the value of the gem, however. Bright colored diamonds with plenty of color are the most desirable, especially in diamond engagement ring sets. Just as with white diamonds, colored diamonds are sometimes treated to enhance their appearance. Determine whether your engagement ring features treated diamonds to help verify the value of the jewelry.

Consider a variety of styles: Some colored diamond bridal sets feature several different diamond colors, and others showcase just one fancy diamond surrounded by white diamonds. Remember that you'll wear your diamond engagement ring set for an entire lifetime and choose the style and color combinations that best represent your fashion preferences. A bridal set should reflect your taste and go with every outfit in your closet.

Buy Bridal Sets
Back to Guides Directory