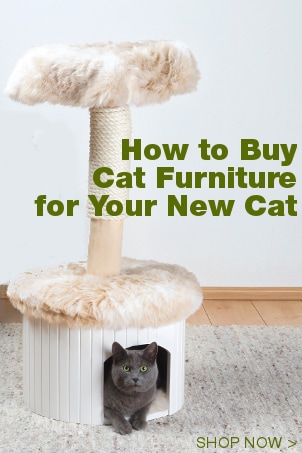 You'll need plenty of cat supplies to keep a new kitty happy. Your cat will need a place to scratch, sleep, and play, and cat furniture is the perfect solution for all of these things. With plenty of options available, it may be hard to know which cat furniture is best for your furry friend. These tips can help you shop for the best cat furniture for your new pet.
Choosing Cat Furniture:

Consider your space: You'll want to make sure the cat furniture you buy fits in your home. If you have limited space, a smaller cat condo or cat tree will be best. However, the larger your cat furniture is, the more your new cat will have to explore. Measure the space you plan on placing the furniture in and look for cat trees and cat condos that will make the most of the space you have.

Sturdiness: Your kitty will likely jump, play, and scratch on his cat furniture. You'll want to make sure to buy cat trees and scratching posts with solid bases that won't tip over. Most cat furniture is covered in carpet or jute for your cat to scratch, but you'll want to make sure all pieces are solidly connected and that no bare wood is showing where your kitty could scratch and get slivers.

Scratch and sleep: The most important feature of your cat furniture is scratching and sleeping space. A good scratching post lets your cat sharpen his claws on something other than your sofa, and a cat condo or cat tower is the perfect place for your cat to curl up for a nap. Many kitty condos can take care of both of these needs.

Multiple cats: If you're bringing more than one cat home or introducing a new friend to your pets, you'll want to purchase cat furniture with enough space and features to accommodate multiple cats. Look for sturdy cat trees with several levels where kitties can sleep and play. Purchasing a large cat tree for your multiple cats will allow them each to have a space of their own and help prevent fights.

Extra features: Dangling toys, tunnels, and scratching posts will all add extra entertainment and function to your cat furniture. The more features a cat tower has, the more your cat will enjoy it. Toys entertain your cat and promote natural hunting instincts, and tunnels give your pet a place to hide, play, and sleep.

Shop Cat Furniture
Shop Cat Beds
Shop All Cat Supplies
See All Guides
Read More Pet Guides
Learn More about Pet Gear & Supplies