by Kochava R. Greene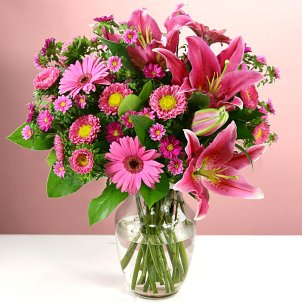 When you're shopping online for a bouquet of fresh flowers, many options are available for delivery. You can choose from a variety of flowers for every occasion or even choose a fresh bouquet for yourself if you need a pick-me-up. Here's how to choose just the right thing.
Buying Bouquet Flowers Online:

Think about the occasion: Decide what kind of bouquet fits the occasion best. For all occasions, you will want to send flowers that will make a bold aesthetic impact. To wish someone luck, convey sympathies, or express congratulations, consider mixed bouquets of seasonal flowers. Mixed bouquets tend to convey appreciation and similarly neutral messages. These fresh bouquets are a great choice for colleagues or friends because they don't carry a specific romantic or personal meaning. Specific hues will fit some occasions best, for example, mixed bouquets featuring pink flowers are wonderful for new moms of baby girls.

Understand roses: When you are looking for flowers online, you will come across many bouquets of fresh roses. These bouquets are tempting, but make sure you choose the right ones. Traditionally, red roses express romantic feelings while yellow roses signify friendship or the end of a romantic relationship. White roses and pink roses are appropriate for mothers and sisters and can also be given to show gratitude. Read our guide on the meaning of rose colors to learn more.

Consider extras: Look at all of the available options for bouquets. Once you know what kind of flowers you want to send, browse your options for additional greens, decorative containers, and extras like small balloons or stuffed animals that can be added to the bouquet. Make sure you can include a personal note when you are looking to send flowers online.

Check shipping: When shopping for flowers online, it is important to check all available shipping destinations and options. Some states have restrictions on the kinds of flowers or other items that can be sent in a bouquet. Being able to choose from a variety of shipping options will help you celebrate in a timely manner.
Fresh Flowers Tips:

Research the meanings behind popular flowers before sending fresh bouquets. Some colors, flower types, and arrangements carry specific meaning.

Keep in mind that some flowers will be seasonal and, thus, easier to get during their natural growing season but possibly more expensive when not in season.

Buy Fresh Flowers
Back to Guides Directory